10 Reasons Why You Should Migrate from Wix to WordPress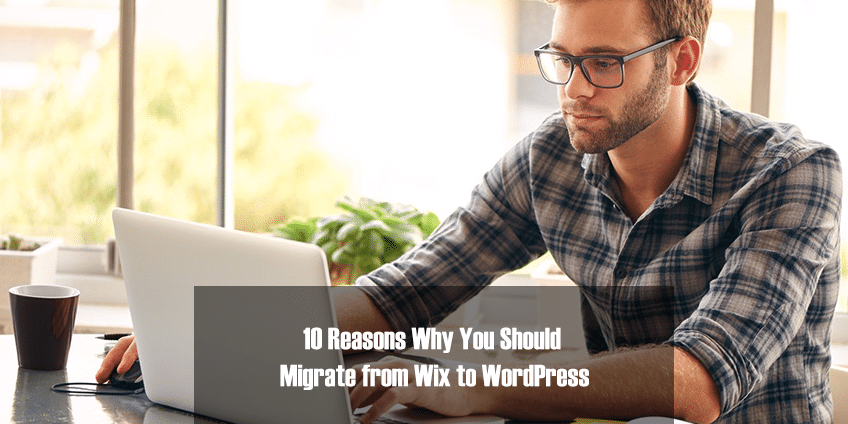 Your website is the face of your brand in the online world. More than ever, today people are using their website to not only promote but also run their business. Blogs today are more professional and intended to give competition to others.
But if you are a non technical person, you might have been lured by the drag-and-drop-no-coding-required Wix platform. But if now wish to create a dynamic site to continue growth, there are a lot of factors you need to consider rather than just ease of use. WordPress is more futuristic and give your website the required push and extra edge.
Let's take a look at why WordPress can be the right option for you-
1. Ownership
Wix
One of the biggest disadvantages of using Wix is that you don't own your website, hosting, domain name or the content. Wix makes you agree to it terms before you proceed, that it has the right to move or delete any content available on its service.
WordPress
Being a self-hosted platform, WordPress gives you complete ownership of your website. It means that, you decide whether you want to continue on a particular host depending on its cost, performance and your requirement.
Conclusion
If you can't live under the constant fear of data loss without notice, within minutes of your painstaking creation, Wix is not for you.
2. Flexibility
Wix
Wix provides a cookie cutter platform which makes the websites capability and expandability limited. For any additional needs, if you are lucky you will find it in its store or else will be left at the mercy of the Wix private team.
You can't even change your host, no matter how badly your business suffers due to that. It also lacks the flexibility of adding additional author name to a post.
WordPress
Since WordPress is an open source platform, it allows for greater flexibility. The main reason of its rise to fame is the flexibility it provides by allowing users, community and developers to customize about everything according to their needs.
Conclusion
With WordPress sky is the limit, as it can expand as much your creativity.
3. Themes and Templates
WordPress
Wordpress has more than 3000 themes available in its themes directory; of which some are free and some premium ones are paid. You can modify these themes according to your requirement, by using plugins and CSS or if you are a developer, you can also make changes to the code.
Wix
Wix offers a small number of around 500 HTML templates. You can't edit the code behind the template; neither can you change a template once it is selected for a very long time. One of the biggest cons of using Wix is that once you have selected a theme, it can't be changes unless you delete the entire thing.
Conclusion
With Wix you have fewer themes available, no modification flexiblity and will be stuck with a theme forever. Whereas Wordprss allows you to customize as much or as little as you want and get a beautiful and effective site for your needs, making it a clear winner.
4. Plugins and Apps
WordPress
Plugins extend the functionality of WordPress, making it more powerful. Currently there are more than 35,000 Plugins that can virtually add any functionality to your website you need. Some are free while the premium plugins can cost you somewhere ranging from few dollars to few hundred dollars.
Wix
Wix offers around 200 free and premium apps. Like for example if you need SEO or Ecommerce app, Wix would offer an app, but the choice are limited. If the available app does not suit your requirement like payment gateway or volume requirement, than you are just out of luck.
Conclusion
If you want a more powerful website with more features and flexibility at a lower cost you should choose WordPress. Wix apps do not stand anywhere close to WordPress, not only in number but also in quality and flexibility.
5. Content Creation
Wix
You can't access the code with Wix as it is purely a What-You-See-Is-What-You-Get (WYSIWYG). That means that you can't edit the source code according to your requirements. Wix might be simple because of its drag and drop interface to create text boxes and writing using a Visual Editor.
WordPress
You can create page and posts through a visual editor. At the same time you can also add your own HTML code to modify content. It also provides a distraction-free mode and allows assigning multiple roles.
Conclusion
If you are looking to create a dynamic website, WordPress is the way to go. Wix might be simpler to use but it restricts the creativity of a developer.
6. Support
WordPress
When you need help or support, the first place you look up to is the Community. WordPress boasts the largest community with experienced developers and hands-on users.
The primary support website is WordPress.org which hosts WordPress Codex, the online manual and a living repository for information and documentation. WordPress Forums is an active online community of WordPress users.
Wix
It's different with Wix, for all your needs you have to go up to Wix.com. Wix.com offers a large database of documents, videos and tutorials. If you don't find your answers there, you can ask for help from the technicians and developers at Wix.com. If that doesn't work out either the only option is to pay and get a premium support via phones, emails but that comes at a price.
Conclusion
Wix community is dwarf compared to WordPress. If you can't get your answers from Wix community, technicians or documentation, the only option left for you is to spend more and get a premium support from Wix.com
7. Cost
WordPress
The cost of hosting, buying domain, themes, plugins, eCommerce, maintenance and development are all factor of the plan you chose. It can range from free to somewhere in thousand dollars. But with comparable features and power as a Wix website, a WordPress site costs half. With WordPress, web development certainly looks easier.
Wix
Wix offers a number of plans. The plans differ according to your requirements and cost, from basic to entrepreneurs costing anywhere from $200 to $1000 a year. If you choose the free option of Wix, you will be distracted by the annoying Ads that come along.
Conclusion
The simple answer is, WordPress is friendlier on your pocket, but the deeper answer depends upon the plan you chose.
8. Search Engine Optimization (SEO)
Wix
The truth is that even though Wix websites are SEO friendly, they don't tend to rank as well as WordPress sites. Also, there are chances that neither the out-of-the-box optimization nor any available app fit your requirements, leaving you more frustrated and out of choices.
WordPress
There are a number of reasons why Google love WordPress. First, it offers excellent SEO capabilities right from installation, which is an important factor for scoring on page rank. Secondly it offers an exhaustive list of best in class SEO Plug-ins that like SEO Yoast that can improve the overall ranking by any search engine.
Conclusion
We all know the importance of ranking in Top 10 search results. Google favors WordPress and with more plug-ins the chances of being recognized by Google Index only get better.
9. Portability
Wix
Wix has low portability. One of the biggest drawbacks of using drag and drop website builder like Wix is that since each platform is so different in its program, it makes it hard to export the content and import it into another platform, and make it work
WordPress
These websites are completely portable unlike other free platforms. It means that at any point in time you decide to move away from your host to another host, you have the flexibility to do that.
Conclusion
Wordpess wins hands down as it is allows portability.
10. Future
Wix
The frequency of Wix updates in the last 3 years when compared to WordPress is very few. While WordPress is the leader in innovation, Wix only follows its path to create something new. It is a listed company, so it's most likely not going anywhere. But if it does it will wipe your content and website clean. So beware!
WordPress
Since WordPress is an open source platform, developed by a community, its future is not in the hands of a particular company. Holding the most market shares in websites using CMS, your website is at no risk.
Conclusion
The future of WordPress is growing exponentially and well assured.
By far WordPress is the front runner platform and pioneer in inventing new technologies keeping your website steps ahead of others.
We hope the valid arguments will help decide on making the progression from Wix to WordPress to anyone serious about their business or blogging website.