Prestashop vs WooCommerce: A Comparison of the Two Heroes of the Online Store Platform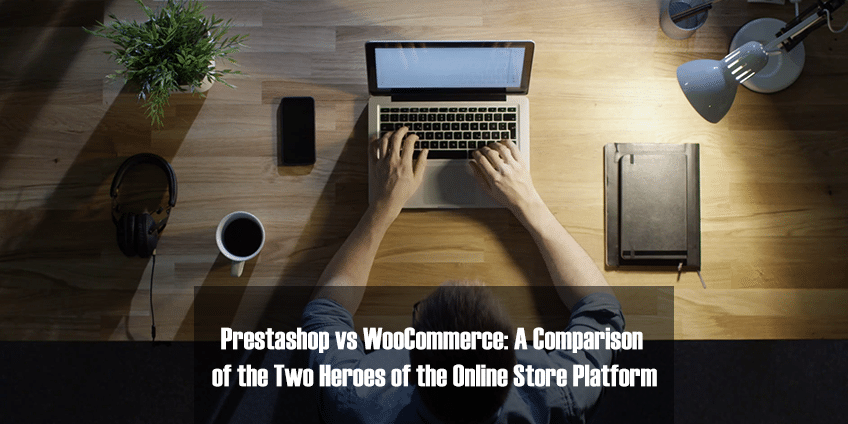 Get acquainted with Online Store Platforms: Prestashop and WooCommerce
The e-commerce platform is a technology in the form of software that can help you develop an online store.
In it, there are important features for online business. For example, product search features, shopping carts, payment systems, etc.
Prestashop and WooCommerce both have features for building and managing online stores even without coding skills. In addition, both are open source, so they are both free to use.
Their purpose and nature are the same , but there are still differences between the two. Come on, let's get to know both of them first.
Prestashop at a glance
Prestashop is a free online shop platform software that has been used by 300,000 users, with a community of 1 million people.
Many large companies on a global scale have entrusted their online store websites to Prestashop.
No need to worry if you are still a beginner in the world of online business. Because the Prestashop dashboard is easy to understand, it will be discussed in this article.
In addition, a strong community with many members will help you find answers more easily if there are obstacles.
WooCommerce at a Glance
WooCommerce is an open-source online shop software built on WordPress. Because it's free, WooCommerce gives anyone the opportunity to do business online.
This platform is a mainstay for WordPress users. Due to easy installation and management.
Perhaps because of that, the popularity of WooCommerce in April 2020 took first place compared to other online store platforms.
Even as of October 2020, there are more than 5 million online stores actively running their online business with WooCommerce.
Prestashop vs WooCommerce Feature Review
Finally we have gotten to the core of the discussion, here.
We will objectively compare for you the differences between these two heavily competing platforms. The details that will be discussed include:
Features
Ease of User
Online Shop Customization
Theme
Payment Options
Security
Customer Support
SEO
Cost
Wow, it's so complete! To be able to see a brief summary, you can immediately scroll to the very bottom.
However, so that you can make the best choice, we recommend reading the following Prestashop vs WooCommerce review!
1. Features
For online shop platforms, features are the main weapon to attract user attention. And both of these platforms already have features that are very functional for online stores.
Both have crucial features in common , such as shopping carts, promo pricing, product catalogs, sales analysis and reports, newsletters or automated emails, SEO settings.
While the features that must use the add-on on each platform are:
Payment Gateway
Wishlist
Shipping options
But among all these similarities, there are still differences. Anything? You will find the answer in the following explanation.
Prestashop feature
The highlight of Prestashop is its user-friendly, clean and compact dashboard display. If you log into the Prestashop dashboard, this is how you will be greeted.
You will find some features that you don't find on WooCommerce, namely:
Localization – Function for setting location, time zone, and language. This greatly affects the shipping, payment gateway, and tax processes.
Forecast charts – Shows traffic, conversions, average cart values, and sales.
Administration – A feature for managing access rights, profiles, employees and website menus.
Overall, the features provided by Prestashop are fairly complete. In addition, each menu contains an example so that beginners can read the data easily.
WooCommerce Features
To be able to see the features of WooCommerce, you can login to the WordPress dashboard.
Meanwhile, WooCommerce features that you won't be able to experience when using Prestashop are:
Mobile App – You can monitor online shops by cell phone.
Product Rating and Reviews – Customers can provide reviews and ratings of your products.
Facebook for WooCommerce – Connects online store to Facebook Shops.
Marketplace Builder – Developing an online store.
API integration – Integration between your online store and other services.
Email Notification for Admin – You will get an email if there are new orders, canceled orders, or failed orders.
Email Notifications for Customers – Your customers will receive an automatic email if the order is delayed, is in process, the order has been completed, the process for the refund order, the order invoice, purchase notes, reset passwords, and creating a new account.
If examined more deeply, the features presented by WooCommerce look more complete and detailed for an online store scale, especially for marketing and promotional needs.
2. Ease of User
Many business people who go online start from offline businesses. This is because online business is very promising.
However, not a few online business owners may still be new to technology. So, how easy the platform can be used by users is crucial.
Then, how do you compare the user-friendliness offered by Prestashop and WooCommerce?
Prestashop User Ease
If you want to feel the sensation of how easy it is to upload online store products, try Prestashop first. As shown below, you can upload products quickly and conveniently on the Catalog menu.
When uploading a new product, the features provided by Prestashop will be of great help. Because you can manage many things, such as SEO, shipping arrangements, wholesale prices or even tax calculations.
With a clean and structured appearance, it will make it easier for users to make overall settings.
This also applies to arrangements in other matters, such as setting prices, promos, taxes, shipping, etc.
The drawback is that beginners may find it difficult to interpret the options because there is no short description of each option.
But fortunately, this can be tricked with an online preview. So every time you make arrangements, you can see the changes immediately.
WooCommerce User Ease
As for using WooCommerce, no special effort is required. You can login to the WordPress dashboard as usual, then enter the WooCommerce plugin that is already installed.
The method is very easy, on the Product tab , you only need to click Add New . Tada!
Every time you upload a new product, you can set the product at the same time, with options:
General – Allows you to list the original price and discount if any. At checkout, the price will be calculated automatically.
Inventory – You can input how many products are available in stock or even if the product is out of stock.
Shipping – You can enter the weight and dimensions of the product, as well as select a shipping option.
Linked Products – This allows you to easily recommend other products to consumers and entice consumers to other product pages as well. The goal is that consumers can see product previews with better quality (upsells) and product previews similar to those in consumer carts.
In appearance, the platform is very similar to the appearance of the WordPress editor and each option is made very intuitive.
So, you don't have to adjust to two different views between WordPress and WooCommerce. This is very beneficial for new users.
Options for customer convenience are also complete with several additional options to maximize your product catalog. For example, you can set the initial and discounted prices, as well as taxes.
In addition, there are also settings for delivery, option attributes for additional settings, and advance that can be used if there are special settings.
3. Online Shop Customization
When building an online store, surely you want a website that can meet your business needs. Both in terms of appearance, features, navigation, and even transactions.
That's why the customization factor is so important for your online store. Then, how is the difference in customization between Prestashop and WooCommerce? Let's compare.
Prestashop Online Shop Customization
What if the default features of Prestashop are not enough?
So the solution is to use modules, third-party services that can help customize your online store as needed.
For example, you want a search feature, product filters, flash sale or cross-selling features, and many others.
There are thousands of modules available. You can search for Prestashop modules quickly and conveniently via the filters on the tabs on the left of the screen.
Or by entering the Modules & Services menu on the dashboard. Use the search feature and category filter to make it easier.
When you find the module you are looking for, you will be automatically taken to the purchase cart page. It's easy, right!
The module installation method is also very easy. When you have purchased a module, you can download the module's .zip file and upload it to the Module & Services menu .
Compared to WooCommerce, the Prestashop module is only used around 100 to 900 times. It is still very rare to find a module with thousands of users.
Please note, most modules on Prestashop are paid. But there is a price for it, right?
WooCommerce Online Store Customization
This WordPress based platform gives you access to thousands of WordPress plugins. No half-hearted, WordPress provides more than 50,000 plugins !
When compared to Prestashop, it seems that WooCommerce is superior because in addition to a wider choice of plugins, the available plugins are also free to install.
More importantly, each plugins from WordPress already has tens of thousands of installations, so you don't have to worry about the performance of each plugin.
In fact, WooCommerce also recommends useful plugins according to the needs of online stores.
For example as below. WooCommerce informs you that the Google Ads and Facebook for WooCommerce plugins are essential for improving your online store orders.
Of the tens of thousands of plugins available, you don't need to be confused about which plugins you should install.
Although you can use the free version, to get optimal performance, you can upgrade to the paid Pro service. It all depends on your needs!
4. Themes
The appearance of your online store is the first thing consumers see. So, themes play an important role in making an online store.
But templates are not just a matter of appearance, they also affect the convenience of visitors when exploring your online store.
Using themes, you can neat and tidy up your features, services and products.
Prestashop theme
In Prestashop, you can call a theme a template. There are 2,350 templates to choose from.
Prestashop helps you to choose a template with complete filters on the left of the screen as below. You can search specifically from the business category, template language, reviews, styles, and more.
You can even search according to the function you want. For example, templates with parallax scrolling, SEO optimization, mega menus, etc.
The template selection from Prestashop is equipped with a mobile preview. So even though it is paid, the template is certain to have a responsive appearance.
Of the thousands of templates available, different prices are different from the list of features offered. Prestashop templates are priced from USD 60 to the most expensive USD 540 .
Worth it ?
Let's take an example of one of the best rated templates in the USD 80 price range .
With such a budget, you can already get "wow" features, such as multiple homepages, 30+ widgets, various types of layouts, as well as a page builder feature.
WooCommerce theme
WordPress has more than 7 thousand themes and there are 1,107 WooCommerce compatible themes.
There are several WordPress themes that have over 50,000 installations. You can see informative details including descriptions, advantages, number of active installs, ratings, and even download statistics per day.
That way, you can decide which theme is the best fit for your online store.
Although the theme can be downloaded for free, it is still in a version with very limited features for an online shop class.
If you want to have premium features and more optimal functions, you can upgrade to the Pro version.
5. Payment Options
Both of these online shop platforms provide payment options to facilitate your customer transaction processing.
However, there are differences in the regulatory process.
Prestashop Payment Options
There are two default payment methods provided by Prestashop, namely through Bank Transfer and Payments by Check.
That way, besides being able to receive payments via local interbank transfers, you can receive and confirm payments by manual check.
However, if you both think that this method is still incomplete, you can add another payment method with the module.
WooCommerce Payment Options
The main payment methods available on WooCommerce are PayPal and Stripe.
To add a payment method, you can set the settings on the WooCommerce tab under Settings> Payments whenever you want.
As shown above, there are several payment methods that can be run for the convenience of consumers. For example, bank transfers, manual checks, cash on delivery, and PayPal.
To make it easier for consumers by providing more varied payment options, you can add plugins.
6. Security
Always remember that the online store that you build is on the internet.
That means there is always the possibility for your online shop to be hacked anytime, anywhere, by anyone. What's more, online stores have a lot of sensitive data that can be an easy target for hackers.
But fear not, you can ensure that your online store is safe on both platforms. Because each has a level of risk and advantages of each.
Prestashop security
Because Prestashop is self-hosted, all you need to do to ensure the safety of your online store is to choose the right hosting service as the first protection for your website.
In addition, Prestashop provides security modules for various needs.
For example, security of registration processes and product orders by consumers, checkout processes, payments, passwords and others.
Usually these modules are paid, because they are used to protect the vital side of your website. And most of the available modules have a rating above four stars, aka guaranteed reviews!
WooCommerce Security
In terms of security, this platform seems to need a little more attention. The fame that WordPress has made it an easy target for internet crimes.
Since WooCommerce is built into WordPress, it's sure to be a cause for concern, right?
As the first layer of security for your online store, of course WooCommerce requires the right hosting .
Relax, basically WordPress security is qualified. Plus if you use two-factor authentication and a few other ways .
In addition, adding plugins can also increase the security of your online store. One of the most recommended by WooCommerce is Jetpack .
For example, for customer authentication systems, protect vital data, prevent spam, and even provide complete statistics on your sales.
Not only Jetpack, you can also add protection with other plugins. And don't forget to always update your WordPress versions, themes, and plugins!
7. Customer Support
Both of these platforms provide customer support services. Because it is not uncommon, business people who go online are still not very familiar with the world of technology.
To further assist you in choosing, we will explain the customer support services provided by each platform.
Prestashop Customer Support
Prestashop is equipped with a number of forums on its official website . Usually, the forums are differentiated by country for the purpose of language ease.
This forum has also built a Prestashop user community with more than 1 million members, who have discussed more than 500 thousand topics.
The number of members makes this forum actively answer each topic or question. The response time is also fast.
WooCommerce Customer Support
Actually, WooCommerce already provides various documentation which contains complete tutorials that you can download for free.
In addition, there is an FAQ (Frequently Asked Questions) or questions that often arise. However, if you have any questions or concerns outside the FAQ, you can also ask them on the official WooCommerce page .
Even more great, this platform dares to provide a money back guarantee .
This applies if within the first 30 days of use, you run into problems without a solution and feel WooCommerce is not suitable for your online store.
Since WooCommerce stands with WordPress at its footing, you can also take advantage of the WordPress forums .
These forums usually discuss various things or problems that users have experienced. Both in terms of WordPress, WooCommerce, and other plugins that you may use.
Many problems were resolved because of suggestions from thousands of WordPress users around the world!
8. SEO
It is no less important for the performance of the online shop SEO or Search Engine Optimization . With SEO, your online store can appear on the first page of Google.
Why should so?
Logically, if your online store is ranked first in Google, of course your online store will be more visible. If so, your business will be more trusted and sales will increase.
SEO Prestashop
Actually Prestashop is quite supportive in SEO optimization. Evidenced by the special SEO options and you can set the page title, meta description, keywords, and URL.
However, the default variables above are not comprehensive enough to help SEO performance. For example, there is no option to use long tail keywords, SEO ALT images, and others.
To work around this, you can use modules. Paid, but enough to help improve the SEO quality of your online store.
SEO WooCommerce
Again, because WooCommerce is based on WordPress, you can use hundreds of SEO optimization plugins for free. This is a very beneficial advantage for WooCommerce users.
For example, you can use the Yoast SEO plugin which is already used by more than 5 million users. This plugin contains more complete and practical SEO variables.
SEO can also be optimized by installing an SEO Friendly WordPress theme to make it more optimal. Because WooCommerce comes bundled with WordPress, SEO settings are much more practical, detailed and varied.
9. Costs
Don't worry, the cost of creating an online store is not as big as building an offline business. You can save all costs, from creation, security, and even website operations.
Because it is website based, the first thing that is needed is hosting as your website data house. Make sure to choose a hosting service that is trusted and has strong credibility.
Like ASPHostPortal which provides hosting with awesome features and competitive prices for business scale.
Prestashop vs WooCommerce comparison
After thoroughly discussing Prestashop and WooCommerce. So it's time we compare the two. Which one is more profitable?
| | | |
| --- | --- | --- |
| Ratio | Prestashop | WooCommerce |
| Features | Complete online store setting feature and provides forecast diagrams as statistical reports. | Complete, detailed, and support the marketing process. |
| Ease of User | Complete and structured settings, making it easier for overall settings. | It is suitable for beginners because of the simple features, easy to use, and available WooCommerce mobile application. |
| Online Shop Customization | The addition of modules is practical and fast, but dominated by paid add-ons. | Almost all setting options can be improved with plugins. |
| Theme | Everything is paid but provides features and a full preview. | Variable but not all themes are compatible with WooCommerce. |
| Payment Options | Supports local payment gateways, namely, Midtrans, NicePay, and Xfers. | Supports local payment gateways such as Midtrans, iPaymu, Xendit, and NicePay. |
| Security | Two layers of security: hosting + module in each option. | Three layers of security: hosting + WordPress + plugins. |
| Customer Support | The forum has> 1 million members), complete with complete documentation. | Support ticket on the official page, help forum on WordPress, official WooCommerce forum, complete documentation. |
| SEO | There are built-in features but still require modules. | Practical and detailed because it is one with WordPress optimization can be maximized with the addition of an SEO plugin. |
| Cost | Estimated cost of IDR 6,879,419, free only for certain modules. | Estimated cost of IDR 3,862,310, lots of free plugins and themes from WordPress. |
Which platform is your choice?
In order to create an online store, you need to consider platform selection very carefully.
If you are new to the digital world, then WooCommerce can be the right choice .
Apart from being more affordable, this platform is also built into WordPress. So that management is not too difficult and is very suitable for small to medium scale websites.
However, if you have more budget and want an exclusive website appearance, you can choose Prestashop.
This platform is perfect for those of you who want to build a medium or large scale online store website.
Both Prestashop and WooCommerce, each have their advantages and disadvantages. But take it easy, both of them are very capable to meet the needs of your online store.
Whatever your choice, both still need hosting with servers that are secure and stable speeds.
Moreover, for an online shop website class, it requires ease of management, fast access and always online.