Why You Should Using Joomla for Create a Website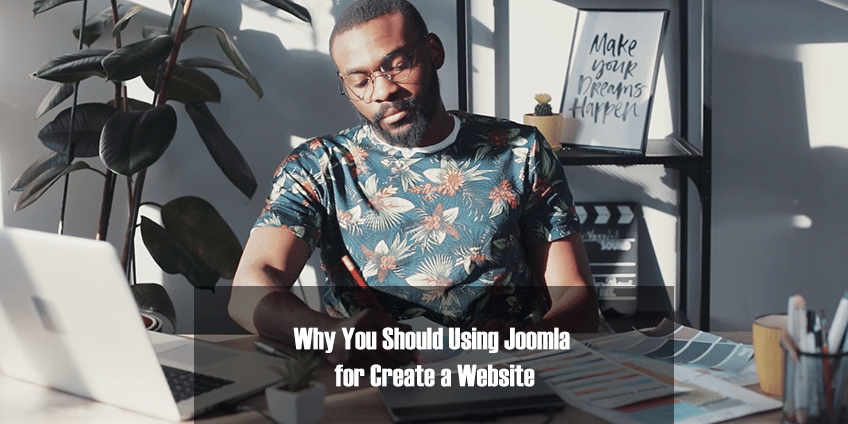 If you are not sure about the benefits of using Joomla for creating a website then I suggest you read this comprehensive guide once. It will help you understand the benefits of this immensely popular content management system. It is an open-source free platform for publishing your content online. So, let's now learn more about this robust platform in detail.
Joomla was developed in 2003 and presently it powers over 2 million websites. Joomla is the second most popular choice in the field of content management system after WordPress. As per resources, Joomla is used by 3.9% of all websites. There are tons of Joomla extensions and free Joomla templates available out there which can be used to enhance the functionality of your Joomla website.
If you are up to setting an eCommerce website, you shouldn't look elsewhere. Joomla is a worthwhile solution to design and develop your online store. Joomla allows everyone to design a site be it personal or business websites. However, the primary benefit of the Joomla content management system is that if you want to create a business website you would need to use the self-hosted website. It is recommended that you should go for the best Joomla template creator.
Joomla offers you many benefits while compared with other content management systems available in the industry.The kind of features and functionalities Joomla has to offer makes it more beneficial. However, like every other content management system (CMS), Joomla also has some advantages and disadvantages. In this guide, you will learn about the benefits of using Joomla for creating a website. As well as some of its disadvantages.
Let's dive in!
Here are the Benefits of Using Joomla for Creating a Website
Open-Source Architecture
Joomla is an open-source content management system. By open-source, it means that any developer can access and edit the code to enhance the functionality of this robust platform. All the source codes are available for free and any user can reuse the code as per the needs. Joomla is created using PHP and it uses MySQL for data storage. PHP is a common scripting language that most developers rely on. Open-source software helps in making constant changes to make this platform more useful.
Themes and Templates
When you create a website whether for personal use or a business website you need to have a fully-featured theme or template. Joomla comes with over ten thousand beautiful themes and templates. Indeed building a website with the help of these themes and templates gets easier. However, you can still use any premium theme or template depending upon your needs and goals to create a website. In fact, you can create a Joomla template, if you are sure about your Joomla skills.
You can use a theme that perfectly matches your niche and gives you a fully functional website. You use Joomla website builders to create a website and get started in no time.
Large User Community
As you already know Joomla is a free and open-source platform that's why you won't find any customer support with it. However, it has a huge customer base. You can be a part of this community and seek help from the expert users who are always helpful if you put your query or issue on Joomla forums. A community is a place where all the Joomla lovers participate and share their experiences.
Anyone new to this technology can join the community and look for solutions to the problems they are currently facing. Joomla has over 200,000 community members. And that certainly means that each and every member has used this powerful content management system and they are aware of the problems and benefits of the Joomla platform. So, you can make use of their knowledge to solve your problems.
Usability
No matter which type of website you wish to create, it can be anything from a personal blog, hobby website, or any business website, Joomla is a great solution. In fact, even if you want to start an online eCommerce store, Joomla has no comparison. There are several Joomla page builders that you use to create your Joomla website. They all are loaded with features that can help you make a website with all the necessary features available. Joomla content management system is also used for creating many official websites as well. Many online communities and groups make use of the Joomla platform and get into the business within minutes.
Built-in SEO Functionality
Search engine optimization (SEO) is an essential aspect of website creation. Joomla is an SEO friendly platform that automatically helps your website to build friendly URLs. When you create a website with Joomla, you get a chance to select your own Meta tags as well as Meta description, and this in turn improves your website's SEO. These Joomla SEO hacks can help you make a strong online presence.
However, if you feel the in-built SEO functionality is not enough for your website, then you may download any SEO plugin that you find best for your website as per your needs and goals.
Thousands of Extensions
Joomla offers you over 8,000 extensions to work with. Of course, you can choose whichever you find suitable for your business. It has everything in its extensions gallery and you are free to choose Joomla extensions as per your requirements. You can find everything from social media extensions, functionality enhancement extensions, and much more. There are 33 different categories such as editing, language, communication, marketing, social media management, various others. Every extension has its own ratings and values that can be helpful in choosing the best one for your business. Making use of Joomla extensions for website security makes sure your website is fully secured.
Top-Notch Security
Certainly, security is a crucial factor when it comes to building a website. Every website developer prioritizes security. We all know how data breaches can harm our websites. Thus, website security should be given top priority. Joomla is an incredibly secure content management system. At the time when you install Joomla, the security features are also installed with it. However, in order to make sure that your site remains secure and safe you need to keep it up-to-date. It is always better to install and security extension to make sure your site remains secure.
eCommerce Usability
When you are planning to sell online, you need to pick a powerful solution that perfectly handles every bit of data available on your site. And nothing can beat Joomla plus Virtuemart when it comes to creating an eCommerce website. Joomla is an eCommerce friendly platform coupled with an array of useful features to help you sell your products online. Joomla content management system makes it easy to manage all the products and other related content on your website. You can also add payment options such as PayPal and many others.
Flexibility
With the availability of thousands of extensions, you can quickly extend the functionality of your website to a great extent and make it more interactive. Joomla is a powerful solution that allows you to make any type of website of your choice. Anything from a small scale website to a full-fledged eCommerce website to sell your products. Build anything you want.
Built-in Caching
Caching is Joomla's one of the most significant features that come with it. It helps in making your website faster. Furthermore, it helps in staying away from overloading the hosted Joomla server. Caching is an intricate feature that can harm your website if not handled properly. Notwithstanding, caching is a must-have functionality that comes with the Joomla platform. However, it is highly suggested not to play with the caching feature if you are not aware of the complexities of this important factor.
Access Control Lists (ACL)
Since its inception, Joomla is blessed with a robust ACL component. The access control list enables you to set permissions who can view what. Furthermore, you can manage who can create what type of content. Starting with the Joomla 1.6 version, the ACL has new settings that make it even more flexible and useful. However, in order to manage Joomla ACL, you need to have complete knowledge about it. Otherwise, you may cause some problems.
Amazing Frontend Editing
There are not many content management systems that empower frontend editing. But Joomla is one such platform that strongly supports frontend editing. By frontend editing, it means that you can edit the content on the website itself. The frontend editing feature is really helpful when you don't have the time to go to the backend and edit the required pages. You can easily do that from the frontend itself. However, in order to make changes or editing requires you to have some technical knowledge. So, do not intervene if you are not sure about your technical skills, it can harm your Joomla website.
Benefits of Using Joomla for Creating a Website – In Conclusion
With the benefits discussed above, it is crystal clear that Joomla is an excellent choice for website design and development. However, Joomla has a steep learning curve, so it is recommended that you should have basic technical knowledge. Or you can hire any professional to create a website using the Joomla content management system. So that you never miss something important while setting up your website. Since there are hundreds of reasons why you should use this platform, out of which some are listed above. It's pretty clear that any business irrespective of its size and scale.