10 Things You May Not Know WooCommerce Can Do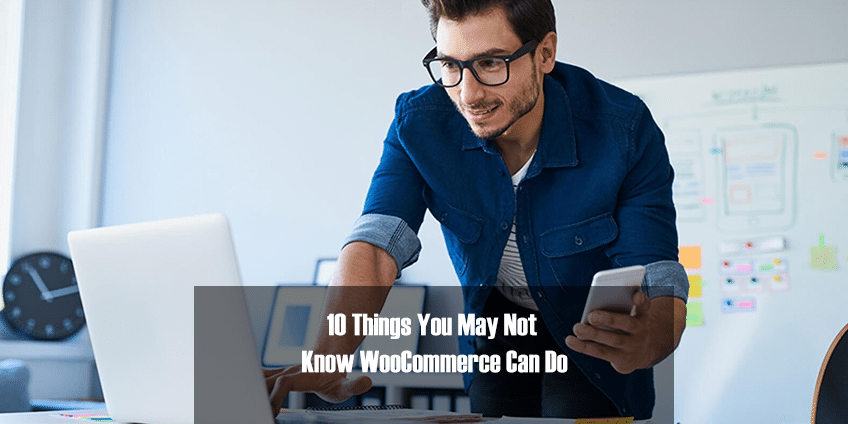 While WooCommerce is excellent for adding an online store to your WordPress, you may not realize that, as a plugin, it is versatile and is available for several other uses. Like WordPress, WooCommerce has multiple forms it can take, giving options for selling and methods of payment.
What is it about WooCommerce that makes it so versatile? First and foremost, its built-in payment engine allows plugins to access it for use. The use of additional plugins or extensions gives you a multitude of options for customizing your WooCommerce just the way you'd like it. Let's take a look at some of the extensions available to show you just a few of the things you can do with your store.
Options for Customizing your WooCommerce
Facebook Stores
Facebook is becoming a highly popular place to sell items, and WooCommerce has a Facebook plugin just for that. This plugin makes it easy for you to create a shop on your Facebook page and link it to your own website, so that your products and inventory remain consistent in both locations.
Facebook pixel is created instantly after plugin installation
Products imported immediately
Sync to your web store
You can also use the Facebook ads extension, which retargets your visitors through the use of a pixel. Installing and setting up the plugin is quick and painless. This plugin makes it easy to list sell your current inventory on your Facebook store.
Subscriptions
A subscription plugin is useful for anything with regular or recurring payments, from publications to recurring orders. Even if your product orders occur monthly or yearly, they still fall under the recurring subscription category, so this type of plugin will work for you, making subscriptions easy for both you and customers.
Magazines
Newspapers
Online periodicals
Online access to services
Products ordered regularly
The plugin allows you to sync with many payment platforms, so when a customer cancels a subscription with the provider, it is canceled in your store as well. This makes it easy for you to keep track of current and past customers without having to worry about billing. Customers are encouraged to subscribe, and you are saved time and hassle.
Quotes
At times, you may not want to sell a product to a customer until the customer asks you for a quote. If a customer wants a large or a special order, you may want to regulate the sale yourself and negotiate the price before the sale is complete. A Quotes plugin will allow you to filter these sales, making the customer ask for a quote first.
Avoid lengthy phone or email negotiations
Skip over hassling and negotiating
Avoid selling a product before you've agreed
You will still need to follow up outside your web store, but this type of plugin saves you steps, time, and possible frustration, allowing you to agree on the price and close the sale.
Auctions
Move over, eBay…with a few functions from an auction plugin added to your WooCommerce store, you can quickly transform your site into a place where customers can watch and bid on your items. Auction plugins provide added interest over simple sales. After all, isn't part of the fun of eBay keeping an eye on your bids?
Run one or more auctions for your products
Show bidding history and countdown timer
Customers can monitor their bids
Winning bidders can pay immediately through WooCommerce
While auction sites are not a new idea, adding an auction function to your WooCommerce store is innovative. No need to set up a separate site or store in order to provide auctions for your customers. If you're looking to change things up and easily add a new function to your store that will draw more/different customers, an auction plugin makes it easy for you to attract and manage your products and bidders while still running your store.
Paid Job Listings
A paid job listing plugin like WP Job Manager Demo allows you to sell your job listings to recruiters who are searching for candidates. This particular plugin requires the no-cost WP Job Manager plugin to work, and it also has a paid extension.
Low-cost job board
Easy steps and no additional signups
Make your WooCommerce work for you
This combination makes it easy to maintain your own job board with low cost while making use of the power of WooCommerce. Save yourself time and effort during the recruiting and hiring process.
Amazon Stores
This plugin uses Amazon's API to integrate its products into your own web store—and visitors won't even recognize that it's Amazon-related. The only time a customer will see that it's Amazon is on the checkout page.
You can make Amazon reviews visible
Utilize Amazon's buying recommendations
Use the power of Amazon on your own WooCommerce store
The native functionality for your site still applies—you can combine the plugin with others or keep a separate blog on your site. This type of plugin is ideal for gaining experience in running an online store without the worry of payments or stock.
Affiliate Stores
Simple to set up and use, the affiliate store plugin allows you to refer customers to other companies for sales. While this isn't direct selling on your part, you do have the capability to cross-sell or up-sell and combine affiliate products with your own.
Cross-sell or up-sell
Combine affiliate products
Provide a shopping experience even if you don't sell products directly
One benefit of using an affiliate store plugin is that you can still sell on your site even if you don't have products to sell. You don't even have to keep inventory, but customers can still purchase products through your site. You can even combine this plugin with the Amazon store plugin if you'd like.
Drop-Shipping
A drop-shipping plugin will allow you to notify suppliers of new orders, sending them an email when a customer places an order in your web store. This type of plugin saves you time with order management, recording several steps automatically for you.
Sell suppliers' products as yours in your web store
Cut down on time for managing orders
Automatically keep track of funds owed to your supplier
Receive and send status updates to/from suppliers
The supplier has to agree, but when they do, a drop-shipping plugin will make ordering easier for you and for them. This allows you and the supplier more time to focus on the business!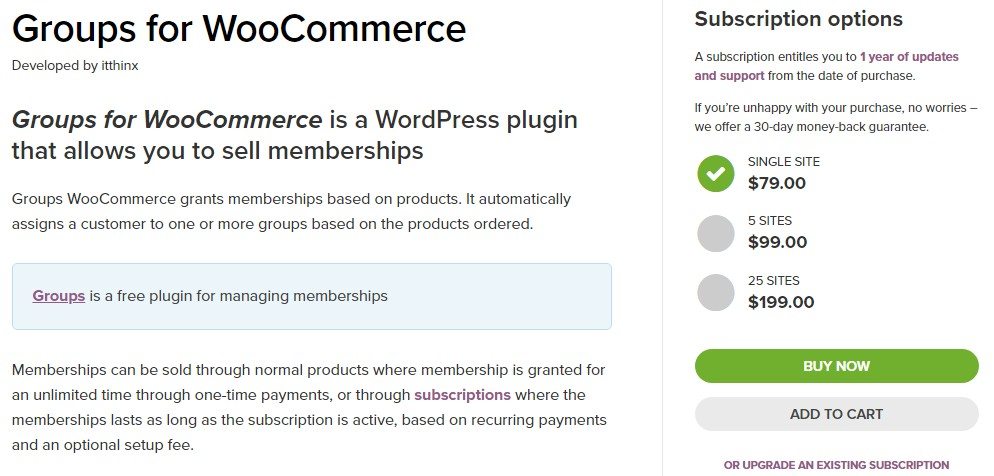 Memberships
With WordPress's current Groups plugin, you can define membership levels, but if you add the Groups for WooCommerce plugin, you can start selling paid memberships. Combine that with a Subscriptions plugin, and you can bill for recurring memberships.
Sell paid and recurring memberships
Allow members to access premium content
Provides assurance of recurring income from your site
One or all of these plugins provides you with the options necessary to create groups with memberships on your site, which are popular with mastermind or study groups. Once a membership is paid and billed regularly, you are more likely to keep that customer.
Bookings
A bookings plugin helps you with any kind of scheduling, from booking hotel rooms to selling tickets to a show. Its calendar makes it easy for visitors to select time and date that they want to book, and options for controlling your bookings ensure that you will avoid scheduling mishaps.
Set parameters for your calendar
Prevent double bookings or no-shows
Allow customers to check availability prior to booking
Send invoices through WooCommerce payment
If you'd like, you can even have customers check availability before anything actually gets scheduled. The plugin sends out an invoice to complete the transaction, leaving you yet another thing you don't have to worry about. Automated scheduling leaves you more time to plan and run your business.
Bonus recommendations include:
Name Your Price, which allows buyers to set their own prices (and you can predetermine a minimum you want to receive)
Marketplace, where you can be the middleman, allowing your vendors to manage their own inventory and listings, but you get a commission
Design Your Own Product, where customers can choose a product and customize it to their liking with images and text
CRM, which keeps track of orders and communication with customers, allowing you to maintain good customer relationships
Point of Sale, which allows you to sell the same stock on your web store as well as in your physical store. Keep track of returning customers and never run out of inventory.
Conclusion
WooCommerce provides so much more than just online sales. Create and customize the ideal web store that functions with your business—exactly as you need it to.