20 Best Ecommerce WordPress Themes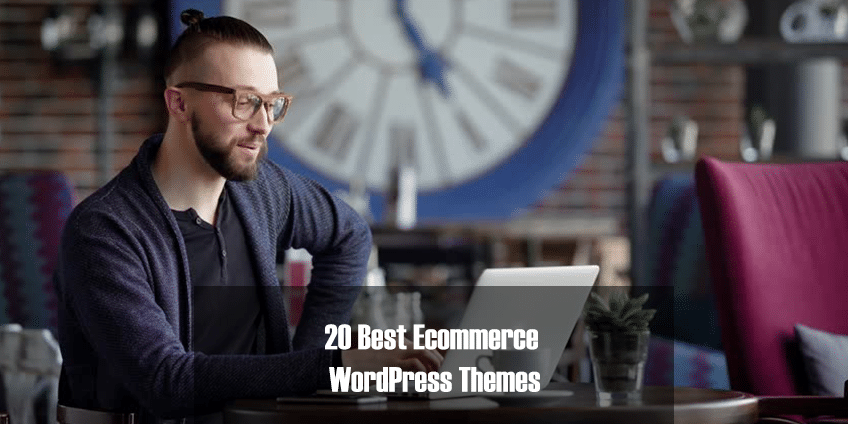 The exciting world of ecommerce themes change on a year to year basis, so it's essential to keep up-to-date on the certain WordPress themes that companies produce to ensure that you are selecting the ideal solutions for selling online.
We talk quite a bit about choosing the right ecommerce platform on this site, and one of the most selected methods for selling online is through a WordPress website. This is a completely free content management system, and you maintain control of all your content. However, this also requires you to install the WooCommerce plugin, but that's not all that hard to do on your own. You can also go with the Bluehost WooCommerce plan if you'd rather they set it up for you.
That said, it's also required that you find your own hosting if you opt for the WordPress route. Most of the hosts provide one-click WordPress installation buttons, and plenty of viable hosts are available for you to choose from.
Once you have your entire WordPress website all setup, it's time to choose from one of the best ecommerce WordPress themes on the market. These themes provide the frontend beauty and functionality you need to sell products and collect payments. The ones we have outlined below have WooCommerce functionality, so it only takes a few minutes to post your first product and start selling.
So, without further ado…here are the best ecommerce WordPress themes for 2019.
Hudson Ecommerce WordPress Theme
The Hudson ecommerce WordPress theme is one of our favorites, and it comes from the folks at TeslaThemes. This modern and playful design has a full shop that connects with WooCommerce, and the slider at the top is a great way to highlight new products. The shopping cart sits towards the top of the site, and you receive a beautiful item gallery to reveal popular, featured and recent products.
Flatsome WooCommerce Theme
The Flatsome WooCommerce Theme is marketed as the top selling WooCommerce WordPress theme in the Themeforest marketplace. This is reflected through the high ratings and many sales, and it includes banners with parallax, slider and video functionality. The shortcodes are great for items like testimonials and Google Maps, while the page layouts allow for wishlists and portfolios. Along with a mega menu, newsletter widgets and a beautiful blog for improving your SEO, the Flatsome theme is one to keep your eye on.
Divi
The Divi theme is one of the most popular on the market right now, and the Elegant Themes product has WooCommerce functionality to make your sales go fast. The deal with Divi is that you can actually make just about any type of design you want, so the drag and drop editor includes elements for pricing tables, video sliders, tabs, videos and other items that can help you improve your product pages. A full ratings system is offered as well. Remember that 46 content modules are offered, and over 18 pre-built templates are available for you to reach your design goals.
Foxy Ecommerce Theme
Check out the Foxy ecommerce theme if you're interested in finding an Elegant Themes solution that's designed primarily for ecommerce shops. With page templates, shortcodes and a responsive design, it also connects well with WooCommerce for selling anything from apps to shoes. A slider is wonderful for highlighting new products, and the product pages have images, reviews, descriptions and related product suggestions to keep people buying on your site.
MayaShop
MayaShop is a flexible WooCommerce theme with a responsive design and eight premium sliders for you to choose from. The unlimited colors and backgrounds are awesome for branding your online shop, while the Google Fonts make it even easier to change the site tone. New arrivals and featured products can be shown through widgets on the homepage, and the product pages have zooming features, reviews, related products, comments and social media sharing buttons.
Shopkeeper
The Shopkeeper theme has always been one of our favorite WordPress ecommerce themes, since it has a modern look and feel, and you can build a beautiful full screen image area once people land on your site. The header provides overlaying text and buttons for sending folks to product and landing pages, and you get some sleek and minimalist product galleries for showing off your best items. The pre-built page layouts cut down on your development time, while the product pages are some of the most extensive we've seen, since they all look like landing pages (long form content, reviews, large images and related products.)
Inspiro – Portfolio Ecommerce Shop
The Inspiro ecommerce shop focuses on photos, but it has some strong ecommerce features for generating a simple store without many distractions. We like the slideshow with video support, because many of the top ecommerce stores in the world do well with this. Not to mention, the menu management is some of the easiest we've seen. The shopping cart is always visible, while the product galleries use filtering and categories to guide people through. Product pages provide tags, images, descriptions and related products, but the best part is that you can still have your footer and sidebar when the product pages show up.
BazarShop
BazarShop is one of the more complex solutions on this list, but they keep it clean with lots of white space. We consider this one to be the closest thing to Amazon, since the homepage packs in social media sharing, email subscription forms, featured products and contact information. The theme works with lots of widgets, and you can move them around to your liking. Two custom checkout pages are available, while the zoom effect is included, so you don't have to opt for a third-party plugin. Along with a catalog mode, unlimited sliders and a popup plugin (for free,) you can't go wrong with the BazarShop theme.
HumblePixels is a simpler example of what you can expect with BazarShop.
Depot

Depot is the ultimate toolbox for eCommerce platforms of any kind. As the perfect balance of minimal design style and powerful shop features, this theme includes all the necessities you may need to grow your business. Equipped with a large collection of easy-to-customize home pages, a variety of inner page templates, and meticulously created blog & portfolio styles, Depot is ideal for showcasing products in detail. As for the shop functionalities, this theme includes all the essential features for boosting sales. Besides practical category & price filters, Depot integrates order tracking, user login/registration, quick look functionality & a wide array of product layouts. Packed with the theme are beautiful product galleries, user reviews & shopping wish lists as well. Customers can easily see sales, special offers and related products right there on product pages.
Ultra
Although the Ultra theme doesn't exactly look like an online shop from the start, it combines simplicity and blogging elements to create an un-intimidating ecommerce shop. Over 32 pre-built layouts are packaged into the theme, and the one page look for the homepage has tons of animations and cool grid-based galleries for showing off your coolest offerings. When you navigate to the shop, it works with widgets and a gallery for revealing your products. Everything is super simple, but customers can add items to the cart without leaving the main shop page, and they can see sales upon first glance. Reviews, images, descriptions and related products are all shown on the product pages, making it one of the cleanest options on this list.
Pinshop
Would you like to build a shop that looks like Pinterest? It's a stunning layout, so why not? The Pinshop theme offers you the opportunity to do so, with an AJAX, grid-based shopping environment for a fast site and beautiful layout. WooCommerce is required for the theme to work, and the shortcodes are handy for items like buttons and columns. The homepage has a slider for your featured items, and users can filter based on certain product categories. The rudimentary product page provides images, reviews, related products and descriptions, all of which look pretty sleek on any device.
The Hugo Ecommerce Theme
The Hugo Ecommerce Theme is built for you to make a highend superstore, since it's packed with mega menu features, a beautiful, full page header and a full width row that tries to collect emails from people that come to your website. WooCommerce support is provided, and the many widgets are available for revealing popular categories, products and blog posts. The header is probably our favorite part, because it hits your customer with exactly what you want them to know, and you can send them to other pages if something is new on your site. Filtering and offers are possible, and the product pages are full width, with beautiful images and clean designs.
The Brutal Minimalist Ecommerce Shop
Check out the Brutal theme if you crave a minimalist option. This is actually a Genesis child theme, so you have more customization options, and if you change your child them in the future, nothing gets lost. A large header and slider is shown to start off the homepage, but when you go to the shop it has a collection of product images that are staggered for a super modern look. What's cool is that you don't really even have to edit your images for them to look amazing. Each product page is a little more complex than the others on this list, with widgets for popular products and tons of item selections for things like gender, size and color. We recommend this most for stores selling clothes, but you can try other options as well.
Karl – Modern and Simple Ecommerce
This, and the theme we talked about before this, is a product from ZigZagPress. This company is known for its super simple themes, so if that's what you are going for, bookmark the ZigZagPress site. The Karl theme has an interesting look, with nothing to scroll down on. Users scroll to the right and then the large product images and links are revealed for a cool and modern style.
Bishop WordPress Theme
The Bishop WordPress Theme is a multipurpose solution, but it has the tools you need to connect with WooCommerce and generate a stunning header module with a button and text. Your product collections are featured on the homepage, but our favorite part is this little row at the top of the shopping area that lets you talk about free shipping, free delivery and 24/7 support.
Neve WordPress Theme
Neve is a super fast, easily customizable, multi-purpose theme. It's perfect for ecommerce shops as well as personal portfolio sites blogs, small business, startups, agencies, firms and most types of projects. The theme is WooCommerce ready, responsive, RTL & translation ready and it has a highly SEO optimized code, resulting in top rankings in Google search results.
Magnus Magazine Ecommerce Theme
Magnus has a magazine look to it, but it works rather well for ecommerce shops, since you can fit lots of items onto your store. It's one of the simpler magazine platforms you'll find, and the products can be fit into a grid on the homepage, or you can use your blog posts there as well.
Kancing Wo1oCommerce Theme
Check out the Kancing ecommerce theme if you like creative sliders and product galleries. This product selection is staggered with images and Buy buttons. People can add the items to their wishlists, or scan through to figure out which ones they want to share with friends. The Quickview button is the best part, since people don't have to go all the way to the product page to buy something.
Suave Ecommerce
The Suave theme offers a beautiful premium layout with two homepage options. One has all of your products on the homepage, while the other has sliders, widgets and galleries to get people excited about your company. The mega menu allows for tons of items, while the product pages offer tons of related and featured product sliders to upsell items and ensure that you get the most out of each customer.
Boutique Ecommerce Theme
Consider the Boutique theme if you're interested in something more playful. Unlimited color schemes are available, and the fun, rigid designs show that you are selling something fun. The theme has a slider and lots of shortcodes for things like buttons and columns. People can even add a product to the shopping cart right from the homepage.
Rustik Ecommerce Theme
Our final recommendation is called Rustik. It comes from the people at Mojo Themes, and it presents a basic store for quickly uploading products and selling. The responsive and minimal design provides 17 widget areas and connections for MailChimp and AWeber. Not to mention, the WooCommerce integration is one of the sleekest we've seen.
In Conclusion
Overall, you could choose any of the WordPress ecommerce themes above and find yourself with a quality product. However, if you're looking for an option to cram lots of content into, go with BazarShop or Shopkeeper. We like Rustik, Karl and Brutal for the simple designs, along with Hudson, Flatsome and Divi for the ultimate functionality.