Best and Cheap DotNetNuke 9.6 Cloud Hosting Discount 15%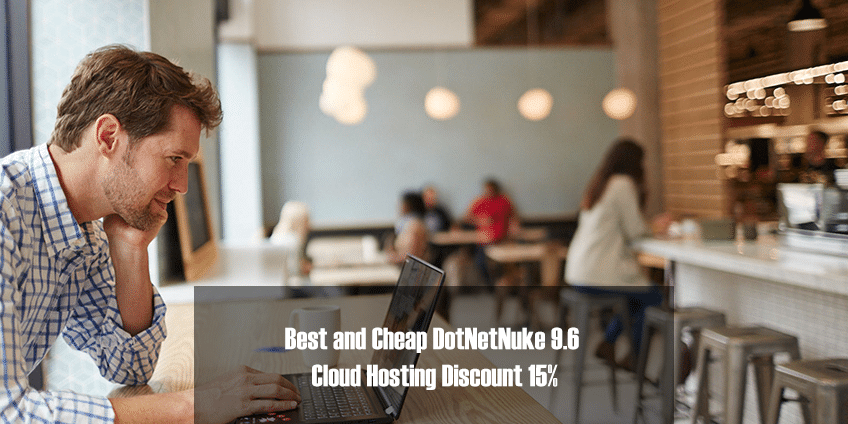 Best and Cheap DotNetNuke 9.6 Cloud Hosting Discount 15%
What is DotNetNuke?
DotNetNuke is an open-source content management system ideal for creating and deploying projects such as commercial websites, corporate intranets and extranets, and online publishing portals. DotNetNuke is built on a Microsoft ASP.NET (VB.NET) platform, and is easily installed.
What is New in DotNetNuke 9.6?
Release Notes
We'd like to first thank everyone from the community who has submitted pull requests or reported issues. A grand total of 49 pull requests by 19 contributors were processed for this release.
Noteworthy Changes in v9.6.0
Potential Breaking Changes
#3673 #3674 #3683 Adjusted Telerik Bindings, if you still have modules that rely on Telerik, please test them during this RC and we recommend to no longer use the platform bundled Telerik features since they are deprecated.
#3685 Updated version of included jQuery library to 3.5.0 (and jQuery Migrate to 3.2.0). See jQuery's Upgrade Guide if you find broken behavior.
Bug Fixes
#3515 Fixed an issue where site settings information would sometimes be wrong.
#3549 Fixed an issue where disabled pages would show in search results.
#3550 Fixed an issue where the display name was validated even without any means to enter it.
#3568 Fixed an issue where hierarchical terms would not import properly.
#3585 Fixed an issue where HTML was double decoded in custom portal templates.
#3588 Fixed an issue where the client ip would be wrong under load balanced environments.
#3606 #3648 Fixed an issue where databaseOwner and objectQualifier were missing in the database scripts.
#3610 Fixed an issue where data consent was not working when wrapped in an UpdatePanel.
#3631 #3632 Fixed an issue where jquery.fileupload was not working (regression).
#3635 Fixed an issue where MVC modules would fail when present multiple times on the same page.
#3640 Fixed an issue where loading the persona bar was not thread safe.
#3651 Fixed an issue where the page picker dropdown within Personabar could display misaligned.
#3656 Fixed an issue where some modules would have inconsistent AllowIndexing settings.
#3659 Fixed an issue where super-users could not login to portals that required email as username.
#3663 Fixed an issue where terms consent would not use the parent portal information.
#3665 Fixed an issue where users with "onfocus" in their email would not be able to register.
#3668 Fixed an issue where the portal aliases would not refresh when switching sites.
New features
#3616 Added a simple web farm caching provider for cloud support.
#3633 Revamped the file extension whitelist with support for administrators and end users list.
#3561 Added AllowUserUICulcture and EnableBrowserLanguage to portal templates.
#3665 Added UI to manage site groups.
#3675 Brought back Export Portal Template feature.
Enhancements
#3474 Improved performance of core messaging.
#3555 Increased the page size for site management.
#3569 Enhanced the display of page list for long page titles.
#3582 Updated the css of .dnnActions to be the same no matter where it is used.
#3594 Changed default email address domain from change.me to changeme.invalid.
#3669 Improved logging for portal groups related events.
#3698 Provide better error messages if a module export fails.
#3700 Changed default file name extension to .export for module exports.
#3544 Registers MVC/WebApi Controllers using TryAddScoped.
Developer Experience / Documentation
#3548, #3601 Addes a PR github action to minimize images on build.
#3596 Added debug build to lerna.
#3615 Fixed an issue where the backup and restore build step would leave developers on commit behind under some situations.
#3572 Updated .gitignore to include the files in the src folders.
#3642 Fixed an issue where the ResetDevSite Cake task would fail.
DotNetNuke Features
Versatile
DotNetNuke is a content management system ideal for creating and deploying projects such as commercial web sites, corporate intranets and extranets, and online publishing portals.
User-Friendly
DotNetNuke is designed to make it easy for users to manage all aspects of their projects. Site wizards, help icons, and a well-researched user interface allow universal ease-of-operation.
Powerful
DotNetNuke can support multiple portals or sites off of one install. In dividing administrative options between host level and individual portal level, DotNetNuke allows administrators to manage any number of sites – each with their own look and identity – all off one hosting account.
Feature-Rich
DotNetNuke comes loaded with a set of built-in tools that provide powerful pieces of functionality. Site hosting, design, content, security, and membership options are easily managed and customized through these tools.
Localized
DotNetNuke includes a multi-language localization feature which allows administrators to easily translate their projects and portals into any language.
Open Source
DotNetNuke is provided free, as open-source software, and licensed under a BSD-style agreement. It allows individuals to do whatever they wish with the application framework, both commercially and non-commercially, with the simple requirement of giving credit back to the DotNetNuke project community.
Extensible
DotNetNuke is able to create the most complex content management systems entirely with its built-in features, yet also allows administrators to work effectively with add-ons, third party assemblies, and custom tools. Site customization and functionality are limitless.
Recognized
DotNetNuke is a trademarked name, and a brand widely recognized and respected in the open source community. With over 185,000 registered users and a talented team of developers, DotNetNuke continues to evolve its software through participation, real world trial, and end-user feedback.
Best and Cheap DotNetNuke 9.6 Cloud Hosting Discount 15%
To choose hosting provider that fully support DotNetNuke 9.6 is not easy task. We highly recommend ASPHostPortal for your DotNetNuke 9.6 hosting partner. Not only offer cheap price, but also expert DotNetNuke 9.6 support team. You feel free to host your great DotNetNuke 9.6 site with their great DotNetNuke 9.6 hosting service. The following are the reasons why you should choose ASPHostPortal as your DotNetNuke 9.6 hosting partner.
ASPHostPortal comes with eight Windows cloud hosting plan, and the prices start from $3.00/mo, normally. With the exclusive promotional link, customers can get the hosting at only $2.00/mo, 33.3% off the regular prices. And you can start your DotNetNuke 9.6 site from $4.00/mo only. That certainly makes ASPHostPortal the cheapest DotNetNuke 9.6 cloud hosting in the field. Moreover, if there is anything wrong, customers can cancel the service, and ask their full money back within the first 30 days, according to ASPHostPortal 30 Days Money Back Guarantee.
ASPHostPortal Windows Hosting comes with Plesk control panel. Plesk is best control panel to manage windows hosting. You can easily manage your server, email accounts with few clicks. You can instantly install over 100 applications on your website with just a few clicks. You can check everything about your website including disk space, traffic, logs & statistics and many more.
Does ASPHostPortal really give 99.99% up time? The answer is yes. ASPHostPortal Windows Hosting servers are capable enough to make your website 99.99% available. ASPHostPortal has established a world-class infrastructure making it possible to guarantee such a high uptime percentage.  Of course there is always the possibility that some factor beyond the control of the ASPHostPortal Company will result in more downtime.  Fortunately, this does not occur too often.  Upgrades and maintenance downtime are acceptable and do not impact the uptime guarantee.
In order to provide top-level web hosting service, ASPHostPortal.com offers 24/7 available technical support with professional and experienced support staffs via create ticket from helpdesk. Besides, those support staffs are been in this field for over 3 years, thus be able to offer efficient troubleshooting process, and provide the best resolutions to any issues raised by customers.