Best and Cheap Sitefinity 13.2 Cloud Hosting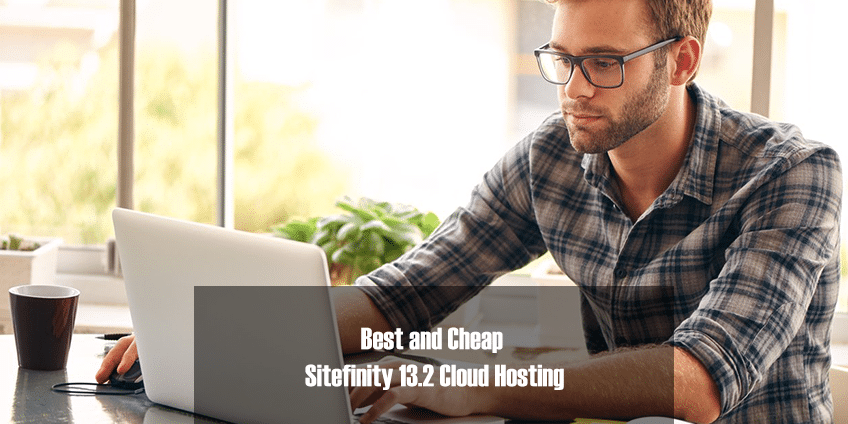 Best and Cheap Sitefinity 13.2 Cloud Hosting
What is Sitefinity?
Sitefinity by Telerik is an ASP.NET web content management platform engineered to make managing your website a more positive, empowering and usable experience. Sitefinity is the first and only CMS to enable enterprises to take full advantage of all three mobile development strategies— Responsive Web Design, mobile websites, and mobile apps, easily and effectively—and all from one CMS user interface.
Sitefinity's intuitive user interface delights both developers and business users alike, making it a more efficient environment to get more work done—faster. There's no long training required, so even new non-technical users will be up and running in no time. Because it's built on a modern code-base, Sitefinity is best equipped to meet the long term needs of today's expanding businesses, including tackling challenges like mobile, ecommerce, multisite management, content personalization, and so much more. Sitefinity's customers further benefit from Telerik's ongoing innovation and technical support. Toyota, Audi, Tetley, NASA and Kraft Foods all trust Sitefinity to power their websites. You can too.
What is New in Sitefinity 13.2?
Sitefinity 13.2 delivers a superior content and digital asset management experience, streamlined development tools and advanced personalization capabilities that turn digital into your competitive advantage. Drive operational efficiency and address key business challenges with a cloud-first platform.
New videos management interface
The Videos module is now a part of the new content UI. All existing capabilities and functions from the old UI are retained. A number of new features and improvements were added, such as:
Ability to search within all folders and libraries
Improved side navigation menu with quick navigation that allows easy access to folders and files
Improved reordering experience with a simple drag and drop
Improved filtering directly from the side menu with an overview of filter results and the ability to add more filter criteria
Automatic thumbnail generation from the first frame of the video
Media search
The new media search is now available for all media types (images, videos, and documents) in the new content UI. You can search by title, tag, category, and URL. The best part – we are now using the Backend search index we introduced in this version. To be able to use the more comprehensive search, navigate to Administration > Search indexes and Reindex the Backend search.
Media usage based on content locations, content links, and backend search
Knowing where media is used is extremely important for content editors. You can now get comprehensive information about where media is used or linked to including in content blocks, long-text fields, and many more. To use this feature, reindex the Backend search index.
Image margins in the rich-text editor
You can now specify image margins in the new rich-text editor. The image margins are applied in real time when you edit content. To specify image margins, insert an image in the content editor and click it to open the Image properties dialogue.
Keyboard shortcuts support in the New UI
We have added a number of new keyboard shortcuts to improve the efficiency and productivity of content editors:
Press Alt+N when editing a content item to create a new item.
Press Ctrl+Enter to confirm the main, highlighted action in the window.
Press Esc to clear selection.
We have also added a keyboard shortcut reference page, accessible via the user menu.
Customizable widget designers for .NET MVC and .NET Core
Sitefinity CMS now autogenerates multiple types of properties in the widget designers for both .NET Core and .NET MVC. With their help developers deliver complex business requirements for widget configuration with no coding. For advanced marketing scenarios, widget designers also support full customization.
In Sitefinity CMS, the autogenerated widget designers for the .NET MVC and .NET Core widgets are based on a common framework, which is extracted into the Progress.Sitefinity.Renderer assembly. This assembly holds all the common types and attributes to help you customize autogenerated widget designers for both frameworks.
Enhanced MVC Forms Widgets
We added an extra set of fields for the MVC-based forms in Sitefinity – State, Country, Confirmation and Date that enable more efficient user interactions and collect more granular data.
Status widget warning for not configured or expired signing certificate
The status widget on the Dashboard now warns you if your authentication token signing certificate has not been configured or has expired. Additional information is provided for these warnings in the error logs.
Enhanced License information page
The Version and Licensing page now provides additional information about your license.
What's improved
Sitefinity CLI supports upgrades from Sitefinity 10 and above
Sitefinity CLI now supports upgrades to the latest version for projects running on Sitefinity CMS 10.0 and later.
These upgrades automatically install NuGet packages, handle references, binding redirects, and framework updates.
New API for handling attempted access to resources by authenticated but unauthorized user
We have added the IForbiddenPageAccessEvent event. You use this event to handle access to protected Sitefinity CMS resources by users who are authenticated but not authorized for these resources.
New events for managing forum post attachments
We have added events which you can use in your code to handle the cases where your site users add or delete attachments to forum posts.
WebTestRunner and integration tests project updates for latest Sitefinity version.
The Integration Tests sample project contains integration tests that you can run with the web test runner.
Ability to restore page content when switching a standard page to redirect and then turn it back to standard.
Creating a redirect page from a standard page no longer clears the contents of the standard page and can easily be restored back to normal.
As performance and reliability can directly affect the site traffic and quality, ASPHostPortal.com uses constantly-innovated technologies and facilities. For example, it applies IIS Manager Access, WCF RIA services, ASP.NET Ajax, Silverlight, Full Trust, isolated application pool, etc. In regards to the actual network condition, this company has been keeping a good and reliable record of speed and uptime. According to our testing data, ASPHostPortal.com uptime far surpasses the guaranteed 99.9%. Their best and cheap Sitefinity 13.2 cloud hosting is beginning at $4.00/mo.
ASPHostPortal.com offer rock solid Sitefinity 13.2 cloud hosting. They can load and stress test your site against anticipated traffic and recommend the best option for you. They can build your Sitefinity 13.2 cloud hosting platform so that it is highly available, fault tolerant and responds optimally to your end users.
ASPHostPortal.com has Sitefinity 13.2 experts on staffs that are available 24/7 to help, a one click install script to make installation a breeze, and they guarantee their service, money back. ASPHostPortal.com use World Class Plesk Control Panel that helps you with single-click Sitefinity 13.2 installation. The minimal specs of their servers includes Intel Xeon Dual Core Processor, RAID-10 protected hard disk space with minimum 8 GB RAM. You don't need to worry about the speed of your site. For more detail about best and cheap Sitefinity 13.2 cloud hosting offer, please visit their site at http://asphostportal.com/
Are You Looking for CentOS Linux Dedicated Server?

You have many options when choosing a Reliable Dedicated CentOS Linux hosting company. Our recommendation for CentOS Linux Dedicated Server is ASPHostPortal.com. ASPHostPortal.com is the best and cheap CentOS Linux Dedicated Server.

With CentOS Linux dedicated server from ASPHostPortal.com, you have full root access to the server 24/7/365. The server is a dedicated service and it is not shared among their clients. All ASPHostPortal.com servers offer the most advanced CentOS Linux Dedicated Server operating system available today.