Best and Cheap WordPress 5.9 Cloud Hosting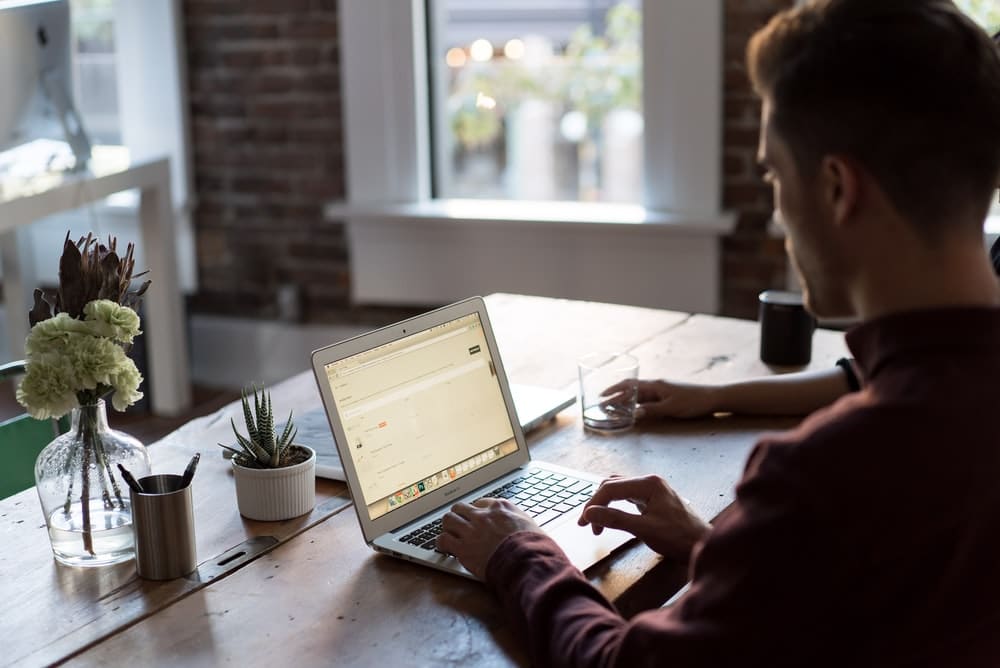 Best and Cheap WordPress 5.9 Cloud Hosting
What's WordPress?
WordPress is an online, open source website creation tool written in PHP. But in non-geek speak, it's probably the easiest and most powerful blogging and website content management system (or CMS) in existence today.
WordPress is a free software, this means you are free to download, install, use and modify it. You can use it to create any kind of website. It is also open source which means the source code of the software is available for any one to study, modify and play with.
Due to the nature of open source, WordPress is a community software. It is maintained by a large group of volunteers majority of whom are WordPress consultants with active interest in growing and maintaining WordPress. Anyone can contribute to WordPress by writing patches, answering support questions, writing plugins, creating themes, translating WordPress and updating documentation.
By using WordPress you become part of that awesome community. You get free support from other community members, download free plugins and themes, and once you have little experience with WordPress you can even contribute back to the community.
WordPress 5.9 is Here!
After about 3 RC updates WordPress 5.9 is here!
You should have received an update notification in your dashboard. Try it and explore the features we've mentioned in the article ahead.
New Twenty Twenty-Two Theme
Every year, WordPress gets a new default theme, and 2022 is no exception.
This year's theme is called Twenty Twenty-Two and is full of interesting new features.
The theme's designer was apparently inspired by birds outside his kitchen window. The theme is minimalistic and lightweight, yet still fun to use.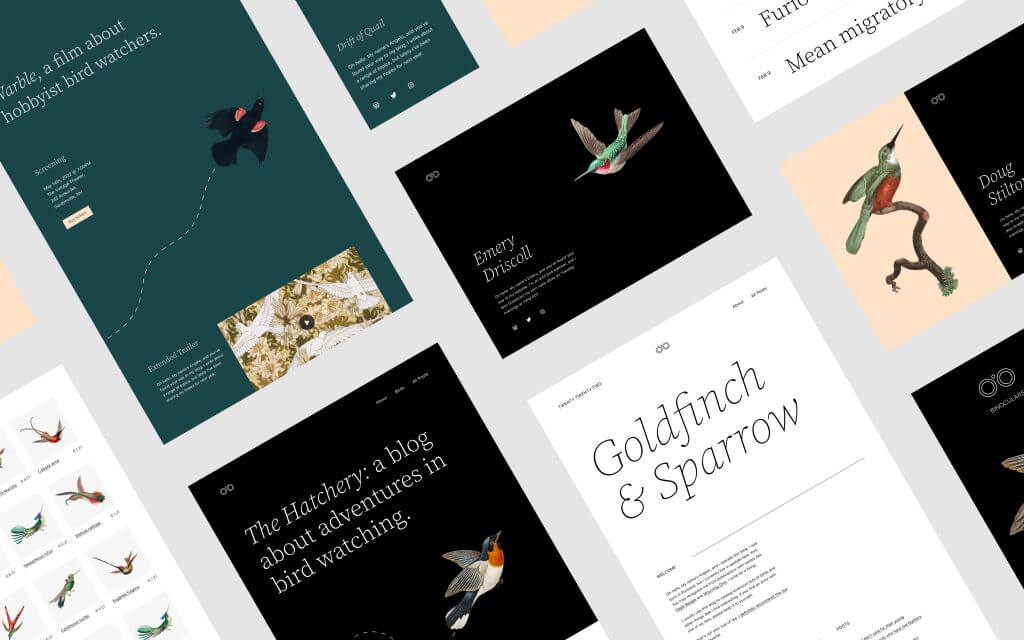 The theme comes with many different customization options for fonts, colors, and other design elements.
Perhaps most importantly, Twenty Twenty-Two is compatible with the new Full Site Editing feature introduced in WordPress 5.8.
Full Site Editor
The Full Site Editor is one of the biggest changes in WordPress 5.9. This is a totally new way to edit your entire site from inside the editor itself.
WordPress 5.9 adds more features to the Full Site Editor, which was introduced in WordPress 5.8.
This replaces the Customizer, Menus, and Widgets in your Appearance menu, which is where most users make changes to their site.
As you can imagine, this is a pretty big change!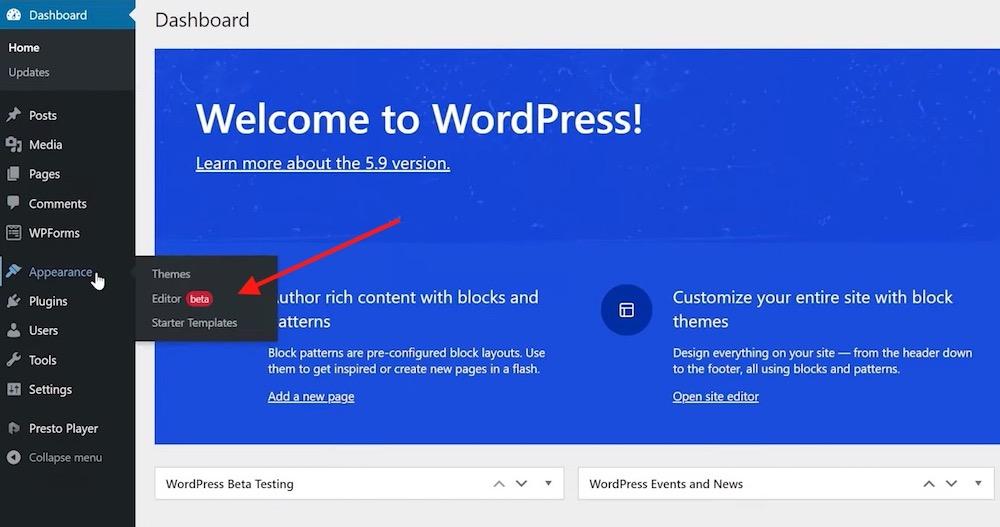 However, it's important to note that the Full Site Editor only works if you are using a block-based theme, such as Twenty Twenty-Two. As of early 2022, there are only a handful of themes that support this feature.
For all other themes you'll still need to use the Customizer and the Editor item will not appear in your menu.
Let's briefly take a look at the Full Site Editor itself and see how it works.
The main new features in the Full Site Editor are the ability to edit site-wide blocks like your header and footer, site title, navigation menus, and other elements.
At the top, you can choose which element you want to edit.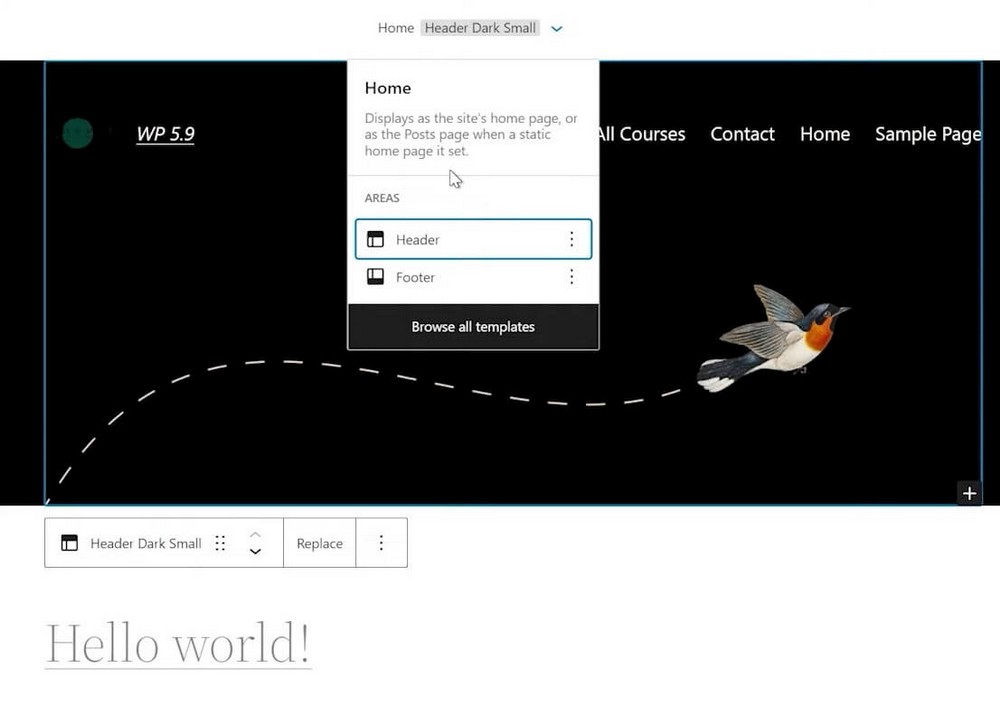 As the name suggests, these changes affect your entire site.
This is pretty exciting as it makes editing content much faster and more centralized. You also get to see how it looks immediately, rather than having to reload the page.
You can also drag the screen to preview how it will look on different devices.
Instead of having to go into the Widgets page, modify the Settings, or add custom code to the footer.php file, you can now do all of this right inside the Editor.
This will save you tons of time!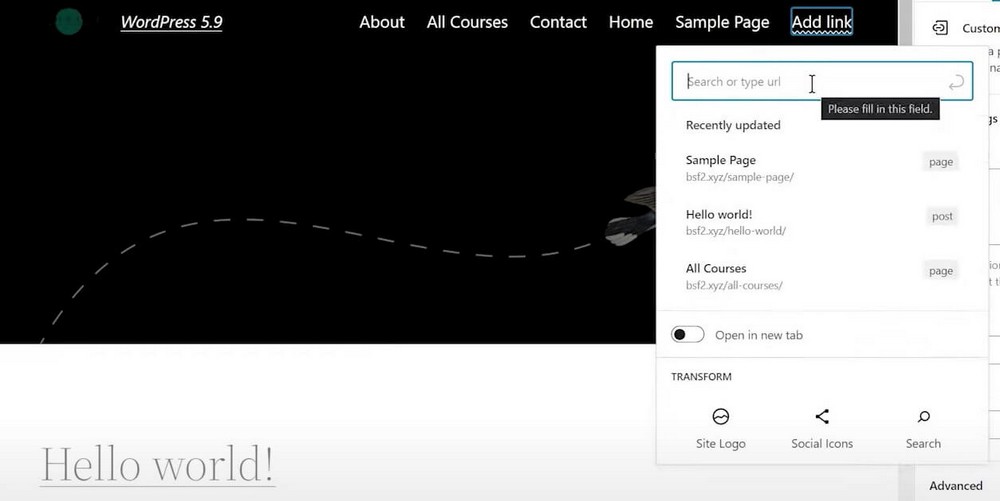 UX/UI Improvements and More Options
Along with the Full Site Editor, there are some other UX/UI adjustments in WordPress 5.9.
Let's cover the most important ones.
More Options in the Sidebar
If you add a block and then click on the options button, you'll now notice some more options in the sidebar.
The available options depend on the particular block, but in general, they allow you to add more customization and fine tune the style of each block.
These include colors, widths, margins and padding, borders, and many other elements. There are also a ton of new typography options which allow you to choose font-family and other items from inside the editor.
Each block has new features, so be sure to explore each one!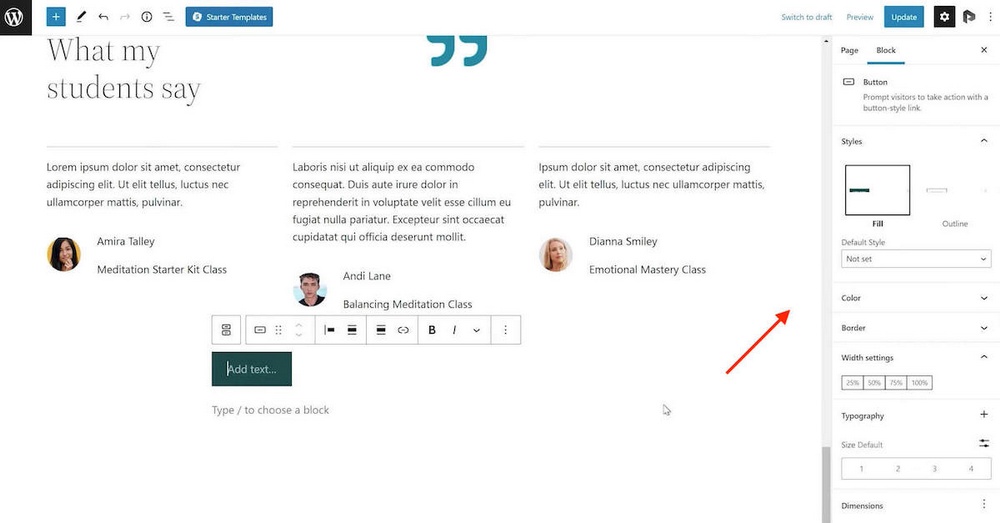 List View Collapsing and HTML #Tags
The List View has also received some updates. If you have added any HTML elements to a particular block, these will now be displayed next to it in the List View.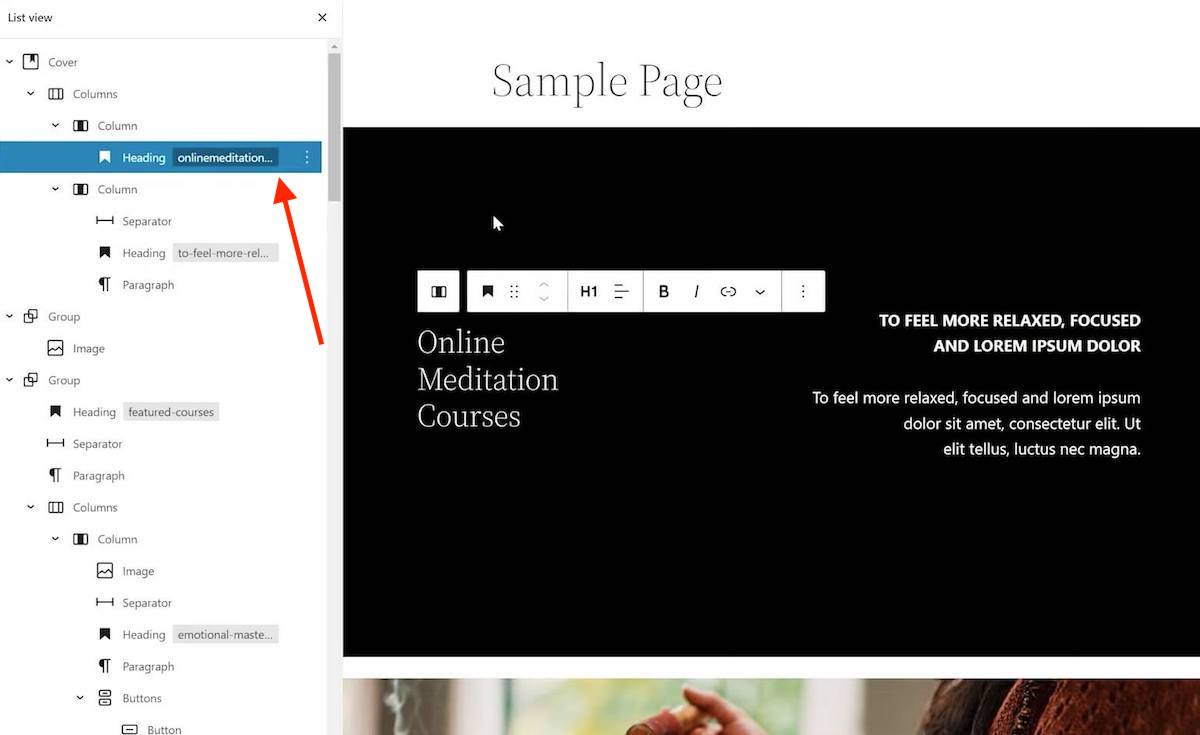 You can also easily collapse the different sections, making it much easier to navigate through the page. This also makes it easier to drag and drop different sections.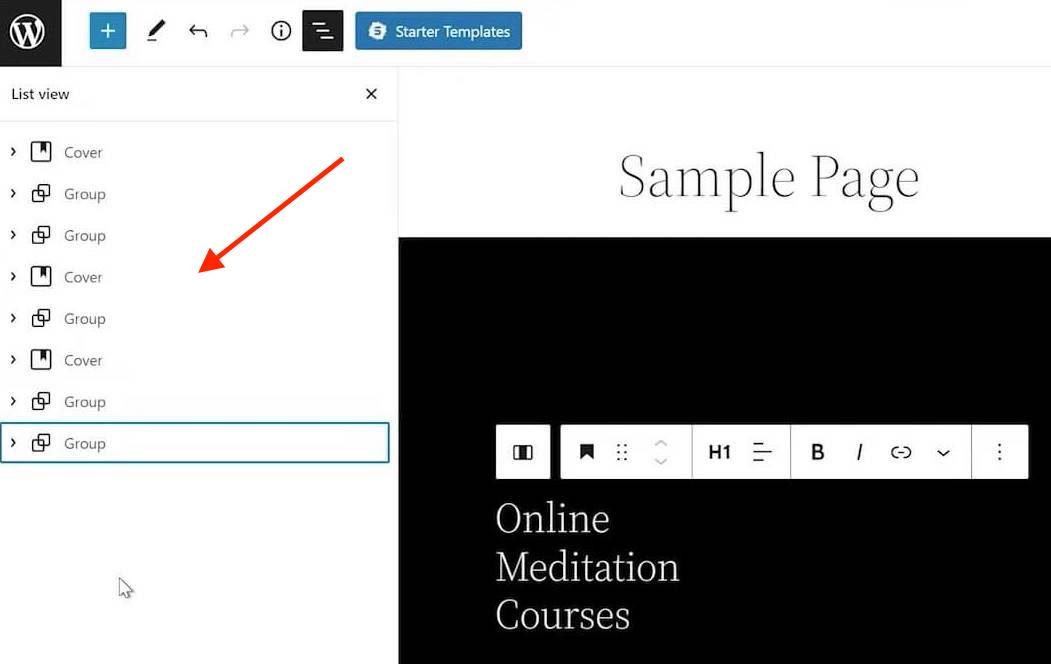 Styles
Another new panel that will be useful is the Styles panel. You can access it by clicking the circle (half-moon) in the top right corner of the editor.
In essence, this allows you to set the design, colors, layout, typography, and other elements for your entire website.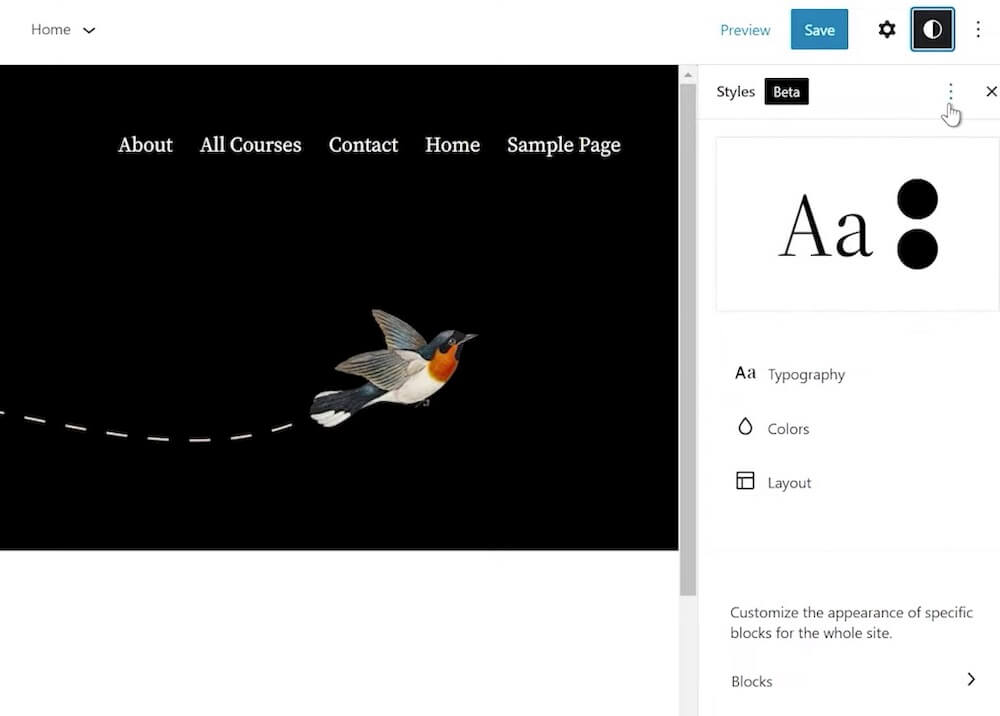 For Typography, you can change the settings for the text and for links on your site. You can modify the font family, size, line height, and appearance.
Under Colors, you can modify a palette or elements. Palettes are combinations of colors that work together. In this setting, there are three sections: theme color palettes, default color palettes, and custom color palettes. There are also gradients. You can choose which one you want to use.
Under Layout, you can modify the padding and dimensions.
Finally, there is a fourth option, called the Blocks section. This lets you set the styles for a particular block everywhere on your website.
For instance, you can choose the Quote block and customize the colors and typography for it. Everywhere the quote block appears, your styles will be applied. This is a much more user-friendly way to apply styles than using CSS code!
Navigation Block
Along with some other additions to the block functionality, there is a new useful block called the Navigation block.
As the name suggests, it allows you to add a navigation menu anywhere in a page or post.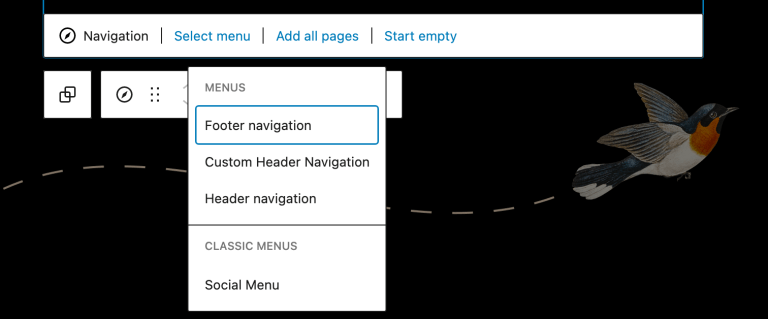 To add a navigation block, simply select the block, add it to your page, then click on Select Menu. You will then see all of the menus that you've created. Select the one you want to use, then you're done!
Pattern Library
WordPress block patterns are an easy way to quickly create a particular design, or pattern, of blocks on your WordPress site.
There are patterns for just about everything, including images and calendars, 404 pages, image galleries next to contact forms, and more.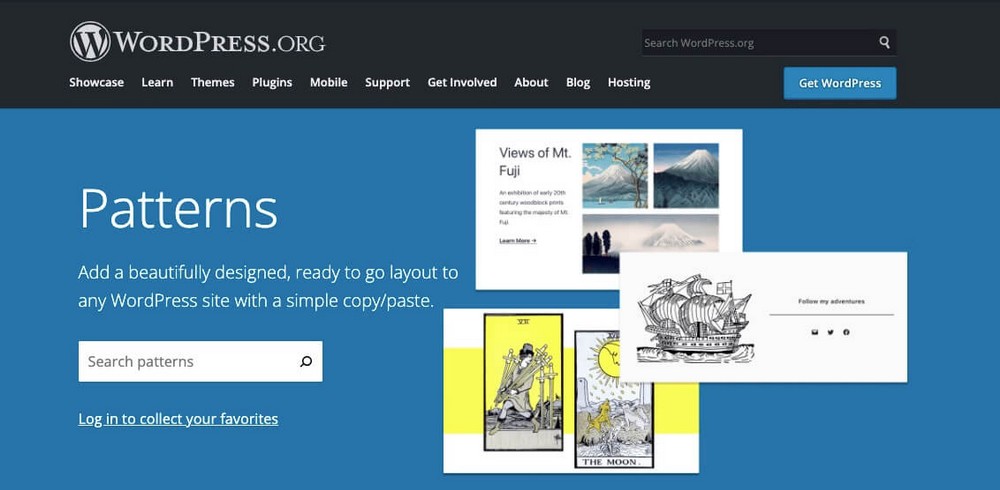 The Pattern Directory has been available on WordPress.org for quite some time and you could previously browse it in the sidebar inside the editor. This was functional but a little difficult to see exactly how the pattern would function on your site.
WordPress 5.9 improves this experience by adding the option to view patterns in a modal window instead.
This improved interface makes it much easier to navigate and browse through the patterns. It's also elegantly designed, which improves the overall experience of creating a page or post.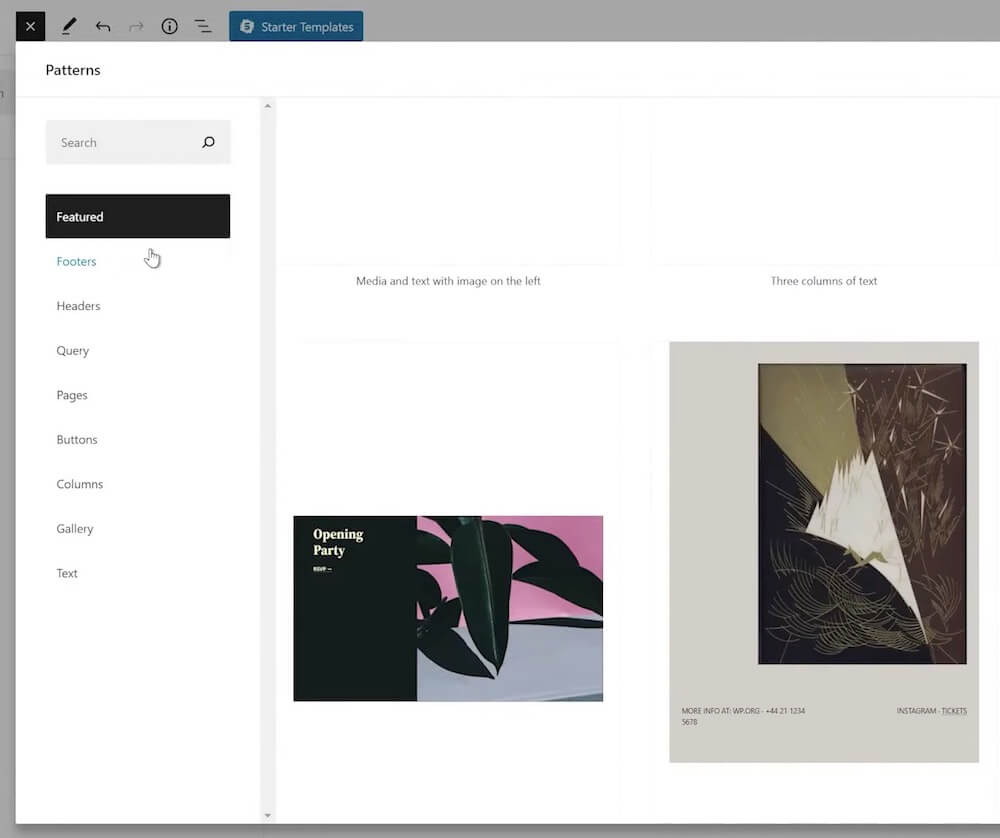 Theme Blocks
Theme blocks are special blocks that allow you to import data dynamically on a page or post.
Some examples are the Query Loop block and the Post Content block. You can find them by adding a new block and scrolling down to the bottom of the sidebar.
In the previous version of WordPress, there were about 10 different theme blocks.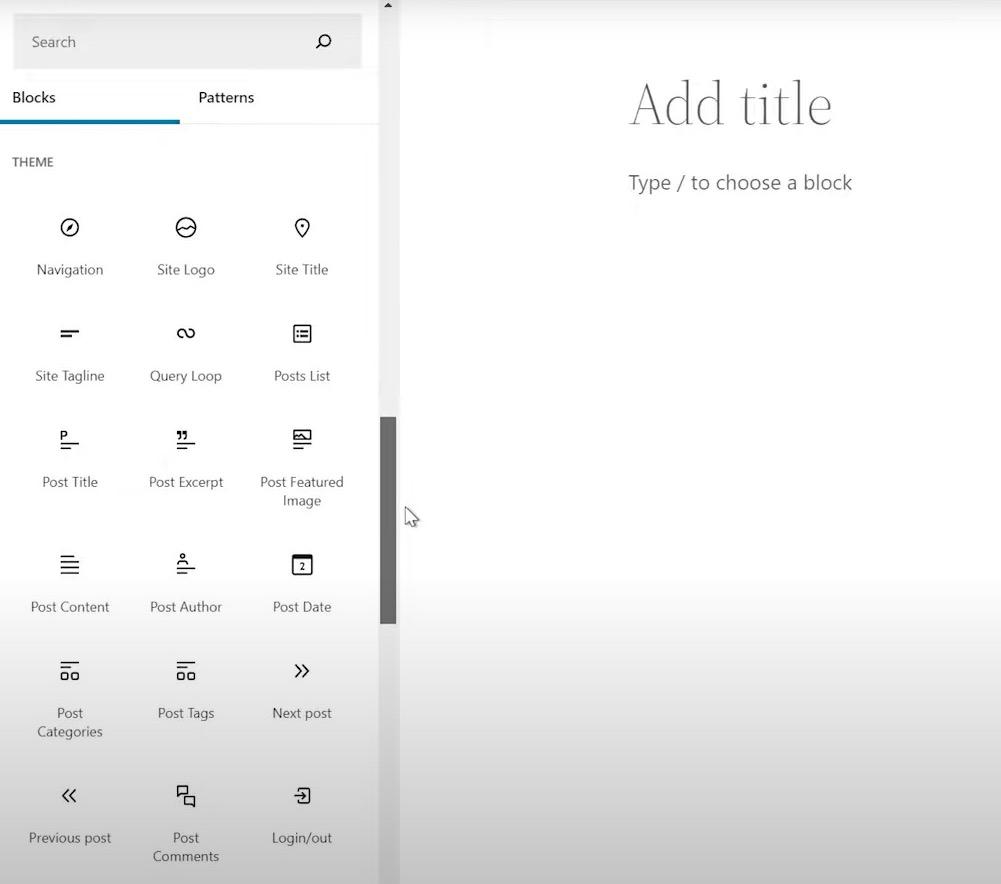 In the new 5.9 update, tons of new theme blocks have been added. There are now about 20 different blocks which you can use. Some of the older blocks like Query Loop have been improved, too.
Language Selection During Login
One minor new feature in WordPress 5.9 will be useful for any multi-language WordPress sites.
If your site has more than one language installed, users will be able to select their preferred dialect on the user login page.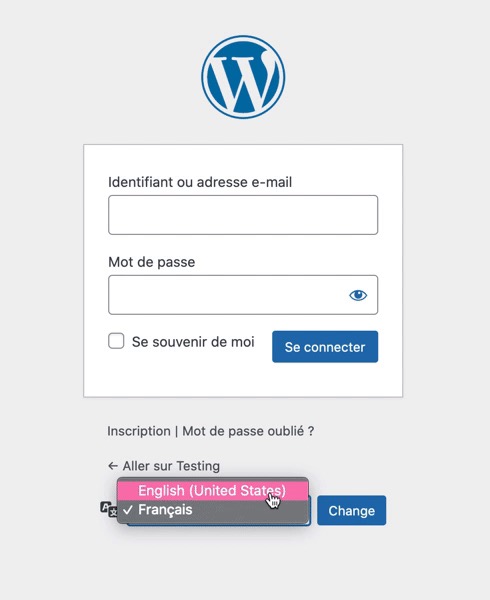 This is useful for international websites!
Note that it will only display languages that have been installed on your site (and not any others.)
General Performance Updates
Finally, WordPress 5.9 introduced some performance updates that everyone will enjoy!
These include enhanced lazy loading for images, faster reusable blocks, a better scaling list view, faster front end improvements, and tons of other minor adjustments.
Most of these are in the background, but you'll likely notice that your site is running faster!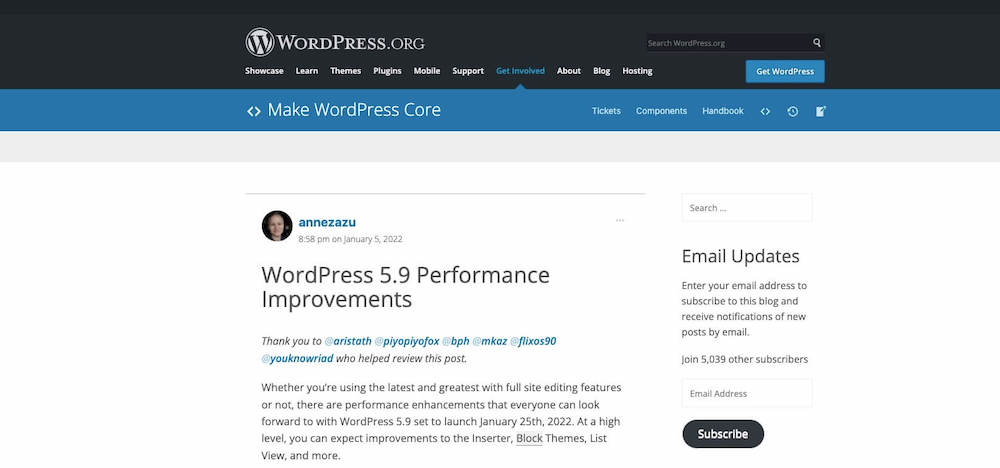 How to Choose Best and Cheap WordPress 5.9 Cloud Hosting Provider?
How to choose a best and cheap WordPress 5.9 Cloud Hosting? Choosing a best cheap WordPress 5.9 Cloud Hosting is not a simple task especially with low price offers. You need to take a large number of factors into consideration, including the WordPress 5.9 compatibility, usability, features, speed, reliability, price, company reputation, etc. Therefore, we have established this WordPress 5.9 review site, which is designed to help you find the best and cheap WordPress 5.9 Cloud Hosting within minutes, based on our specialized editors' WordPress 5.9 Cloud Hosting experience and real customers' feedback.
ASPHostPortal.com
ASPHostPortal.com offers best and cheap WordPress 5.9 Cloud Hosting. ASPHostPortal.com was founded in 2008. It has been topping the list of almost all the web Cloud Hosting review sites so far. This company is missioned to deliver a cost effective plan in the consideration of all feature, price, reliability, loading speed and technical support. Their best and cheap WordPress 5.9 Cloud Hosting plan is starting at $2.50/mo. ASPHostPortal.com is now providing free domain for new clients to enjoy the company's outstanding web Cloud Hosting service. Their servers optimized for your WordPress 5.9 installation 24/7/365 ASPHostPortal.com's technical support from WordPress Cloud Hosting experts.
DiscountService.biz
DiscountService.biz prides itself in providing web Cloud Hosting with a rare combination of unmatched reliability, quality and affordability. DiscountService.biz's edge is derived through unparalleled company management and a culture of employee driven initiatives. With their fully support on Microsoft Windows and WordPress in their Windows Server, DiscountService.biz is the best choice to host your WordPress 5.9 Cloud Hosting. They are so confident in their Cloud Hosting services they will not only provide you with a 30 days money back guarantee, but also they give you a 99.9% uptime guarantee. Their WordPress 5.9 Cloud Hosting plan is starting from $3.00 /mo.
UKWindowsHostASP.NET
UKWindowsHostASP.NET offers WordPress 5.9 Cloud Hosting. They offer flexible WordPress 5.9 Cloud Hosting to new as well as existing customers. Given the scale of their environment, they have recruited and developed some of the best talent in the Cloud Hosting technology that you are using. Their team is strong because of the experience and talents of the individuals who make up UKWindowsHostASP.NET.