Build Online Courses With WordPress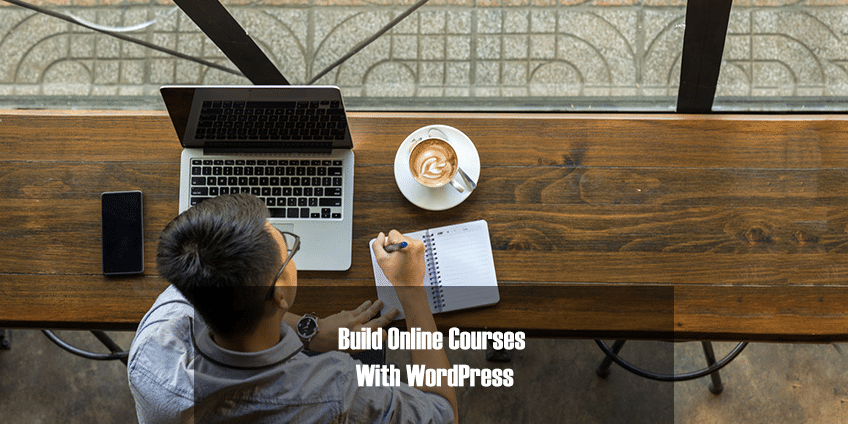 Millions of people around the world have lost their jobs in 2020, forced to stay at home, taking their knowledge and wisdom with them. In many cases, these people (maybe you?) could build an online course teaching the skills and knowledge you have. You can provide other people with skills they can use to better their own life, and make enough money yourself to not only weather 2020, but perhaps build a long term business.
To be clear, this isn't working for someone else or being paid by an employer, but rather building something yourself leveraging what you already know.
There are already hundreds of stories of people like Yoga instructors making courses and videos at home and selling access to them. Stylists, makeup artists, welders, cabinet makers; people from all walks of life can build their own website and teach what they already know.
This post will give you some real world examples of how people have built their own sites, and then show you what tools they used, so you can learn to build online courses with WordPress, teaching what you already know.
Real World Examples
Building A Business With Balloon Animals
Ziv Raviv is a balloon animal artist. A few years ago he started a podcast talking about it, and built an audience of listeners. Once he had that audience he branched out into teaching his craft on the internet.  He already had a WordPress site, so he got LifterLMS and began making instructional videos for people to watch. He added homework and quizzes and people could earn certificates etc. Over the next several years Ziv was able to build a large community, and earn several hundred thousand dollars.
Helping Fathers With Fitness
The Fit Father project works to help men over 40 regain fitness. They realized that people work better when part of a community, so they combined WordPress, LearnDash, and BuddyPress to create that community. By providing a procedural training program with specific growth markers with LearnDash, as well as a community for people to learn and grow together, they are able to help men regain health and fitness in a positive, self-driven system.
On The Lighter Side
Both of the above situations offer full featured educational experiences, with quizzes, badges, and ways to show progress, and in a sense "graduate".  An alternative is something like a Yoga studio like Lilias!, or a painting studio like Bob Ross had. In many cases you may already have a brick and mortar location, but now students can't come to you.  In that case you could simply record a number of videos and use something like Restrict Content Pro, Paid Memberships Pro, or MemberPress to require a paid membership for viewing. Just log in, watch the video, and be happy with what you've learned.
If you have a great blog, offer some free videos, and maintain a solid email list and people will be happy to sign up to get your content.
This scenario is quite simple, but wouldn't prevent you from expanding later to have forums, chat, or other options.
---
Getting Practical
This all sounds great, but how does one actually make it happen? Let's take a look, starting at the most complex methods first.
Note: None of these solutions are particularly "technical".  By far the hardest part will be organizing your own information and deciding how you want to present it. Once that's done, setting it up in one of these plugins is relatively easy.
First, WordPress
All of the software mentioned in this post depends on WordPress. OSTraining has many posts and videos on how to set up on a host, so I won't go into it deeply here, but I wanted to be clear what the foundation should be.
A Learning Management System
A Learning Management System (LMS) will give you something like an online school, with multi-lesson courses, quizzes, goals and achievement levels, and much more. These are great for traditionally testable things like math, linguistics, science, etc.
There are two really great LMSs in the WordPress space: LearnDash and LifterLMS.
They're similar in what they do, but not exactly the same, so you'll want to do some research about which is for you.  Both are well written and come with excellent support. They're managed by friendly, helpful people who will be happy to talk to you before you buy if you have questions.
A Membership Site
For the most part, membership plugins limit access to content. They tend to have a mechanism for paying for access, and then can control levels of access.  For example, you could pay $10/mo for 2 new courses per month, or pay $20/mo for 4 new courses.  Considering that they don't provide things like quizzes and achievements, they're great for sites which simply provide access to video training, or documents.
Three really great WordPress plugins for membership sites are Paid Memberships Pro, Restrict Content Pro, and MemberPress. Similar to the LMS plugins, each is managed by lovely people who would be excited to answer questions and help make your dream site come to be. And also similar to the LMS systems, while they're quite similar to each other, they do each have a slightly different feature set, so please read through the sales material ahead of time and choose the right one.
A membership is much less work for the site owner.  They simply upload the material and get it to the right place in WordPress.
---
Optional Addons
There are many things you can add to your educational site that could enhance it. I recommend doing lots of customer research, these things have been done both wonderfully and disastrously. It depends a great deal on what your students want.
BuddyPress or BuddyBoss
BuddyPress is a free plugin that can help you build a community site similar to Facebook.  BuddyBoss uses the same core platform as BuddyPress, but for a fee will provide support.  BuddyBoss also offers many paid addons to extend the capabilities. Both are excellent, you'll just need to decide if you need what BuddyBoss charges for.
bbPress
bbPress is a free plugin that provides web based forums, so your students could engage in conversation about the courses. It's built by the same folks as BuddyPress.
Mashups
Something really exceptional about all of these plugins is that they can integrate with each other.  You don't want to mix two of the same thing, like both LMSs, or two membership plugins, but you could combine one LMS, one Membership plugin, BuddyPress, and bbPress and have a very robust system, using the unique features of each.
---
Summary
I want to reiterate that the scenarios we've talked about, and the tools I've recommended are NOT "get rich quick" schemes. They "make decent money with hard work over time" plans. You may find that this works great for you and you can have a wonderful time teaching online. You may find that this is not for you, but you won't really know until you try!