The Big Difference Between Hosting and WordPress Hosting – Which One Should You Use?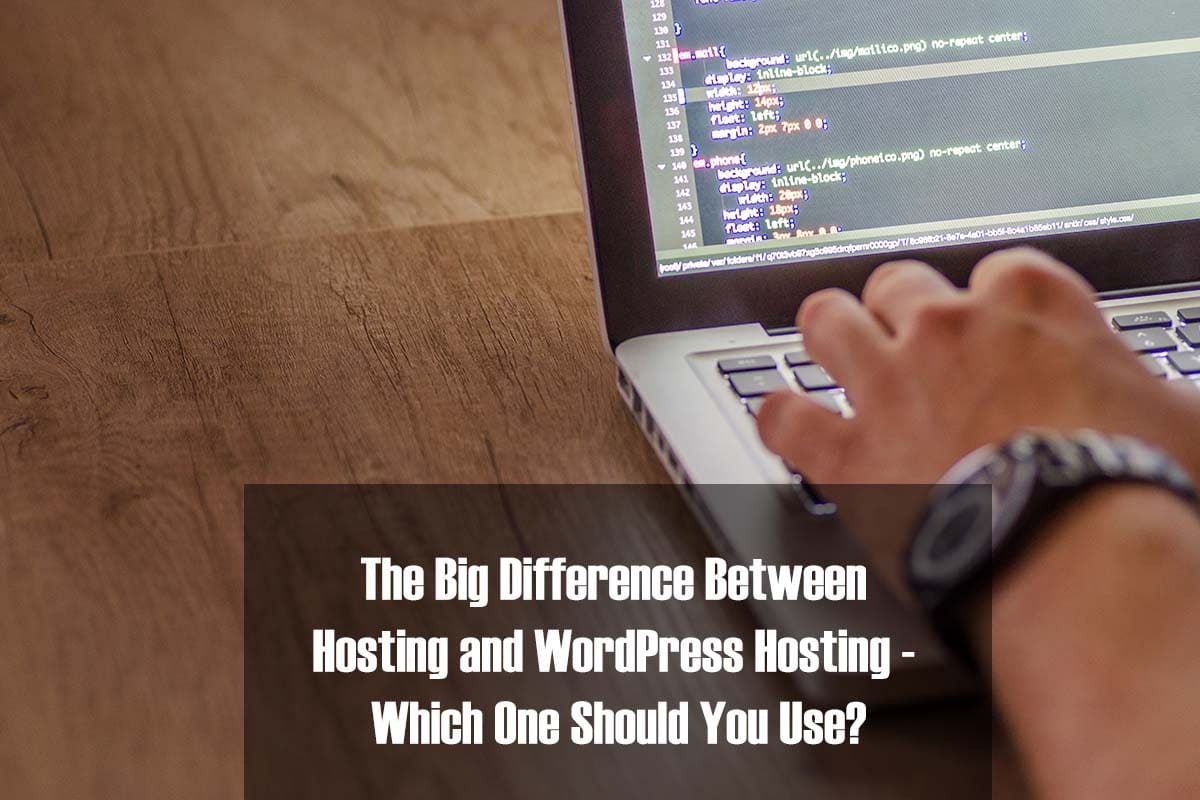 Comparing WordPress hosting vs. web hosting is similar to understanding how all squares are rectangles but not all rectangles are squares. Web hosting (the rectangles) and WordPress hosting (the squares) are extraordinarily similar — but not understanding the differences can have a major impact on your website's success (or upcoming geometry test).
Millions of website owners and businesses rely on WordPress to power their online presence — and they all need hosting. Eager to appeal to the massive audience, many hosts now advertise WordPress hosting plans. What that means, though, differs from one host to the next.
Shopping for the best web hosting services can be tricky enough without this confusion, so we're here to dive deep and reveal the signs you should look for when choosing your next host. Read on for our comparisons and recommendations, or click one of the links below to skip ahead.
What is WordPress Hosting vs. Web Hosting?
In this instance, web hosting typically refers to some form of shared hosting, where multiple websites share the space and computing resources of one server. More generally, of course, the web hosting umbrella covers other server configurations such as cloud, VPS, and dedicated hosting.
Specific plans for WordPress hosting should include platform-specific features and optimizations not normally included in basic shared hosting plans. WordPress may be the galaxy's most used content management system, but site owners can sometimes struggle with implementing ideal security, performance, and development practices. As such, worthwhile WordPress hosting plans commonly include a mix of web application firewalls, staging areas, automatic updates, caching tools, priority expert support, upgraded SSD hardware, or environments backed by cloud or virtual private servers.
However, some hosting providers opt to take a shortcut and seek to capture a larger slice of the market without actually implementing those services. Beware of WordPress hosting that offers the same features as a company's shared server packages — either for the same price or even more. As we continue digging into the details of comparing web hosting to WordPress hosting, we'll point out how to figure out if certain features are a well-priced perk or a thinly veiled attempt at upselling.
Web hosting features, terminology, support levels, and prices all fluctuate across the industry, but any web hosting account that uses the Linux operating system, supports the PHP programming language, and includes the MySQL database management system will also enable you to run WordPress effectively (Don't worry, those have all been extraordinarily standard and common features for many years). In fact, just about every web hosting package these days seems to include the famous one-click installations of the popular software to make it even easier for novices to get started.
Best for Web Hosting
If you're keeping your site development options open, definitely look for a web hosting plan that offers hundreds of installation scripts, which are sometimes included as part of a Softaculous, Fantastico, or another commercial script library. Don't worry, there's no programming or code involved with installing WordPress (or other content management systems like Joomla or Drupal) — rather, installation scripts are touted as one-click tools that automatically take care of setting up basic configurations of popular software programs. You'll actually need a few more clicks of the mouse and will need to supply some basic information about your site to get started, but these are wonderful tools to have.
If you're not sure about using an open-source CMS, look for a web hosting plan that includes a website builder. These differ from platforms like WordPress because site owners can more visually adjust their sites using a drag-and-drop interface. Web hosting specialists (and providers that are just relabeling their shared hosting plan to appeal to WordPress users) will be more likely to tout their included drag-and-drop website builder or eCommerce options.
Best for WordPress Hosting
If you're serious about WordPress and are relying on the content management system and hosting provider to support your business or professional aspirations, it's worth investing in a strong package that is specifically tailored for the platform. There's still a wide range of features to be found in worthwhile WordPress hosting services, so don't be intimidated; the same mantra of finding the best plan for your comfort level still holds true.
Because we're primarily talking about running a WordPress website on a shared server, you'll want to pay attention to features that speak to speed and security. A web hosting plan will be well-suited for WordPress if it stores data on solid-state drives, which can process information up to 20 times faster than traditional spinning hard disk drives. More technical, fine-grained options include supporting PHP 7, allocating extra PHP memory, and running a fast web server like NGINX.
WordPress power users will want to look for automatic updates and daily backups, along with the inclusion of caching plugins, a staging area, and a web application firewall. Some hosts will include premium versions of Jetpack, a plugin for design, marketing, and security built by WordPress parent company Automattic. Tech-savvy developers will also appreciate WP-CLI integration to unlock access to the command line interface.
WordPress Hosting vs. Web Hosting: Cheap & Free Hosts
Despite powering world-changing events and being the platform of choice for organizations like The Walt Disney Company, Clorox, Sony Music, The New York Times Company, and The Obama Foundation, WordPress is available to absolutely everyone for absolutely no cost (all you need is hosting). The open-source movement is a boon to budget-minded site owners who need to limit costs to generate revenue and scale a successful business.
Fortunately, the bustling web hosting market continues to drive prices down to extraordinarily affordable rates. Sure, there are some free hosting options out there, but you'll be much better off forking over a nominal fee and enjoying the extra features and support.
Amazingly enough, WordPress.com offers free hosting to those looking to test the waters. The plan remains free for life, but you'll be restricted to a WordPress.com subdomain and have to run (small, innocuous) WordPress ads. However, paid hosting from WordPress.com unlocks premium domain services, support, design tools, and an ad-free experience. Who better to get cheap WordPress hosting from than WordPress itself?
WordPress Hosting vs. Web Hosting: Fastest Hosts
You've always heard that website performance and page load speed are critically important to online success. Speed sells, and milliseconds matter. Google uses site speed as part of its ranking algorithm, and Amazon has said that one second of lag would cost the company $1.6 billion in sales per year. Even if you don't need fast-loading pages to help drive customer satisfaction and eCommerce conversions, a slow site will negatively impact the amount of time your visitors stay on your site.
With generic web hosting, much of the performance burden falls on you. Maintaining a lean codebase, compressing image file sizes, avoiding unnecessary external scripts, and other standard internet best practices are pretty much all you can do without root access or the ability to optimize your server environment.
Because hundreds or thousands of sites are living on a single server, shared hosting is a one-size-fits-all solution. That being said, there can be a noticeable discrepancy between one host's speed and the next. The easiest way to find a fast web hosting plan is by identifying shared hosting plans with solid-state drives — that shows the company is invested in providing high-powered hardware to support its customers instead of doing the bare minimum. In addition to modern storage arrays, some web hosts will use cloud infrastructure to boost speed and reliability.
Finding high-speed WordPress hosting is usually much more obvious. Site owners who prioritize performance will want to stay away from those blended shared hosting plans and find a specialized (and perhaps slightly more expensive) option that includes caching plugins, a content delivery network, and supercharged servers.
WordPress Hosting vs. Web Hosting: Managed Hosts
What do you get when you cross one vague and often misleading hosting term with another? Actually, when done right, you'll see some dramatically innovative and luxurious services. Managed WordPress hosting represents the highest level of specialized infrastructure and responsive, knowledgeable support.
Managed services are regularly offered as part of VPS and dedicated server plans and typically concentrate on server health: Operating system updates, security patches, monitoring, backups, priority support, and DDoS protection are common tasks covered with the upgraded service. The goal is to remove the mundane day-to-day technology chores to enable a site owner to concentrate on improving content, optimizing conversions, and reaching larger audiences.
In a roundabout way, all shared web hosting plans are inherently managed; the provider makes sure its infrastructure is operational, secure, and performing as it should because customers lack administrative access. However, be wary of the same tricks the hosts trying to sell misleading WordPress hosting services use to capture confused site owners.
Web hosting can be complicated and difficult for non-technical people to understand, so reading and understanding the fine print is a must. At the WordPress level, for instance, some hosts may tout automatic updates, free backups, expert support, and malware and virus scanning tools as special managed services. At best, many of these are included as standard parts of a web hosting plan; at worst, as in the case of automatic WordPress updates, that feature has been part of the WordPress system since 2013.
Ranting aside, a handful of hosts actually get this extremely right. They understand that effort, care, attention, and passion lead to happy customers and successful websites. In addition to top-notch and fine-tuned infrastructure, the hosts listed below take a granular approach to improving WordPress performance and security. The companies will regularly sponsor and attend WordCamp gatherings, and their developers will regularly contribute to WordPress core leadership. The support teams turn all that in-house experience into truly savvy WordPress support tailored to your specific site's needs.
WordPress Hosting vs. Web Hosting: Features & Support
Using the WordPress hosting label is much like dangling the managed services carrot. Managed hosting is another commonly used industry moniker that can have a wide range of meanings — or occasionally be thrown around with no actual features or assistance to back up its claim. When in doubt, always read the fine print to see what exactly you're getting with a prospective new hosting plan.
Be sure to match your hosting services with your level of experience and website goals. It's totally fine if you're not sure whether you'll be sticking with WordPress for the long haul; as we mentioned earlier, the content management system works great with the vast majority of plans out there.
Well-rounded web hosting plans offer a breadth of installation scripts, website builders, and design templates. You'll want to start with a pool of hosts that offer a free domain and SSL certificate, along with around-the-clock support, migration assistance, and a decent money-back guarantee.
Start Off Your Personal or Small Business Site Right With Great Hosting
There is no clear winner in this web hosting versus WordPress hosting comparison, as each type of plan can run the gamut from a strong, feature-driven bargain to a shady, overpriced scam. A great hosting company's shared server configurations might outperform a bad provider's trumped-up WordPress hosting plan, for instance. Beginners starting their first foray into WordPress would likely be overwhelmed and spend too much money for one of our recommended managed hosts, while growing businesses will probably expand beyond the capabilities of our best hosts that prioritize affordability.
No matter which route you choose, there is no substitute for a great hosting service. If a company excels at shared hosting and support, they'll be a great fit for a wide range of WordPress websites. Experienced developers and businesses may want to opt for an even more powerful plan with a higher ceiling, while a first-time site owner or hobbyist designer will be perfectly served with a strong basic web hosting plan.