ASP.NET Core Hosting Comparison – WinHost VS ASPHostPortal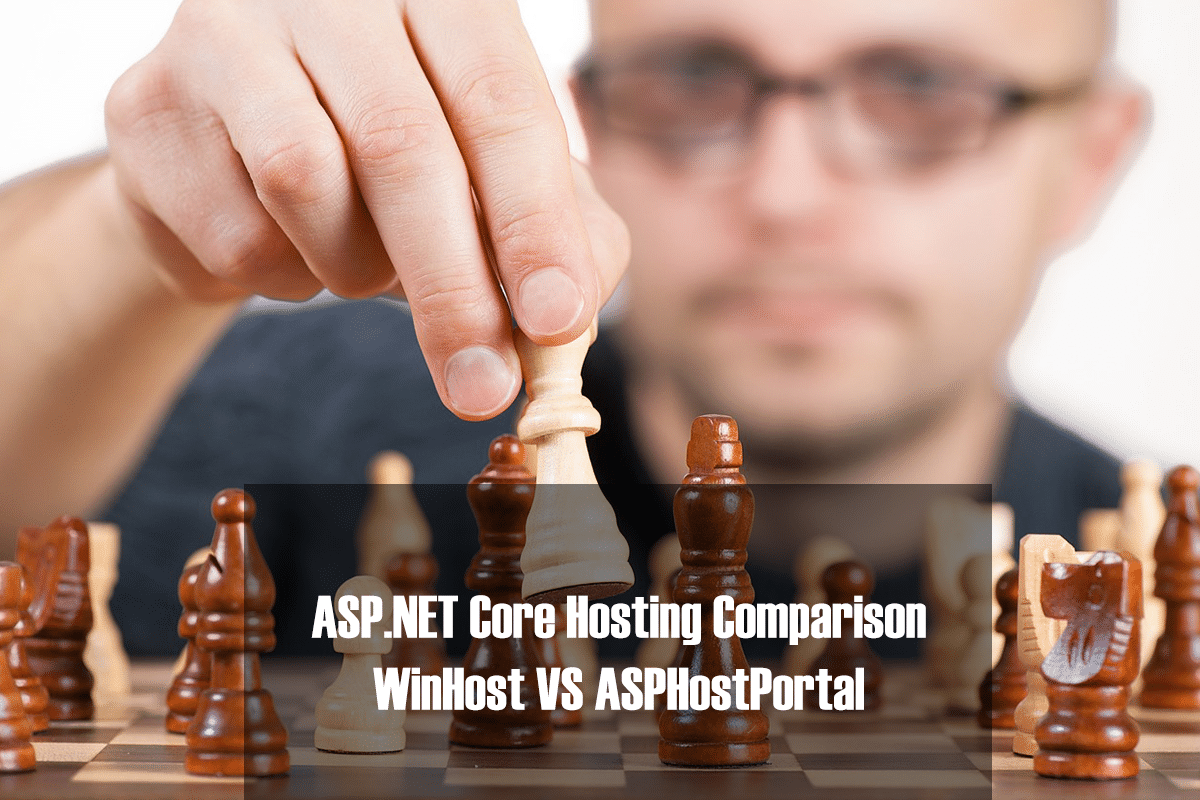 WinHost, is an ASP.NET hosting expert, hosting customers' ASP.NET websites on its own servers, instead of the servers that are rented from web hosting resellers. And it cares much about website stability that customers deserve. Currently, customers can find different ASP.NET hosting plans to fit different needs.
While their competitor is ASPHostPortal. They are the best hosting provider. They have many years of experience in handling Windows hosting, and now they also offer the Linux hosting with a much cheaper price and the best quality in its class. ASPHostPortal have servers scattered in strategic points such as the US, Brazil, Canada, Mexico, United Kingdom, Germany, France, Italy, the Netherlands, India, Hong Kong, Singapore and Australia.
The WinHost VS ASPHostPortal acts as a justice to help readers make a right choice. This comparison analyzes the similarities and differences of the two hosting providers with a view to price, Microsoft technologies, performance and customer support.
For many readers lacking understating of WinHost and ASPHostPortal, we make the following table to reveal the secret as clear as possible.
| Rating | WinHost | ASPHostPortal |
| --- | --- | --- |
| Reputation | ★★★ | ★★★★★ |
| Reliability | ★★★ | ★★★★★ |
| Feature | ★★★★ | ★★★★★ |
| Speed | ★★★ | ★★★★★ |
| Technical Support | ★★★ | ★★★★★ |
| Read More | WinHost | ASPHostPortal |
Pricing
WinHost has three hosting plan for their Windows ASP.NET hosting. The price offered by WinHost is starting from $3.95/mo, $7.95/mo and $19.95/mo. All their hosting plan is free setup fee and will be activated in 24 hours.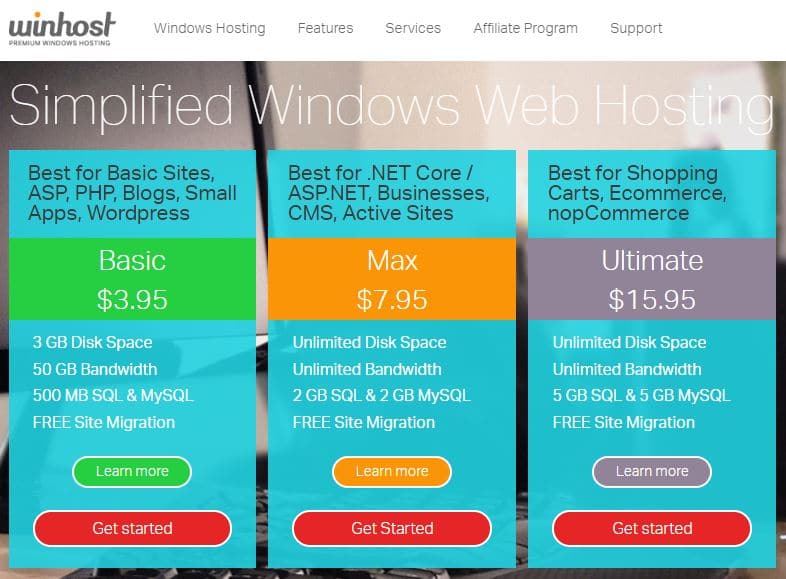 While the price offered ASPHostPortal much more varied, they offer Windows ASP.NET hosting at a price that is almost impossible, starting from $0.99/mo for their intro host package. While seven other packages are Host One, Host Two, Host Three, Host Four, Host Five, Host Six, Host Seven, with the price of each $3.81/mo, $7.21/mo, $11.46/mo, $18.27/mo, $27.62/mo, $36.54/mo, $50.99/mo.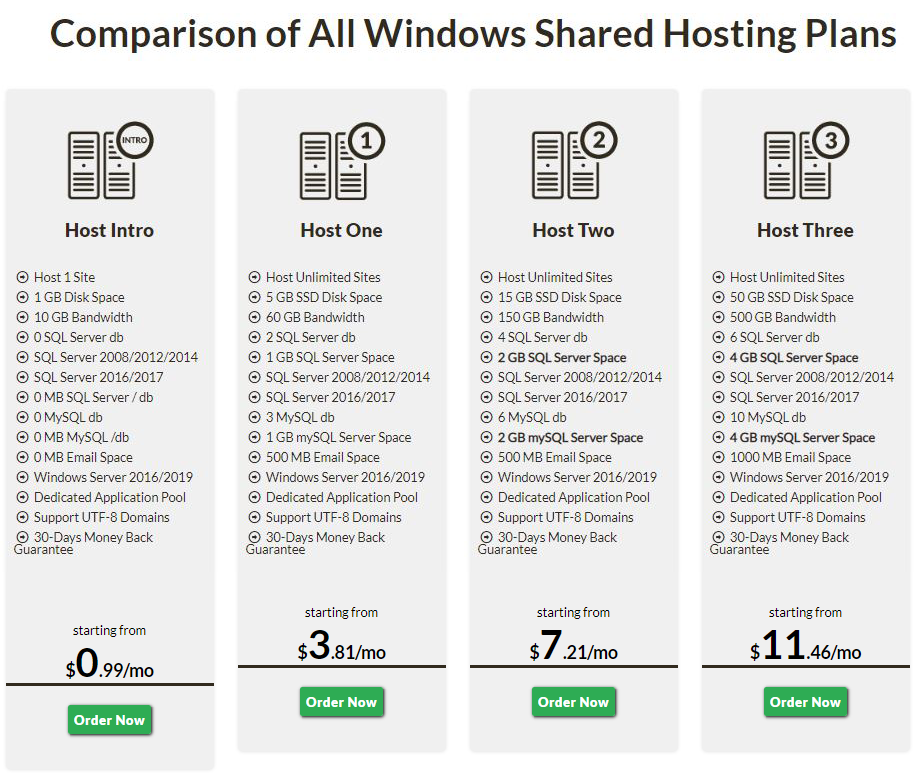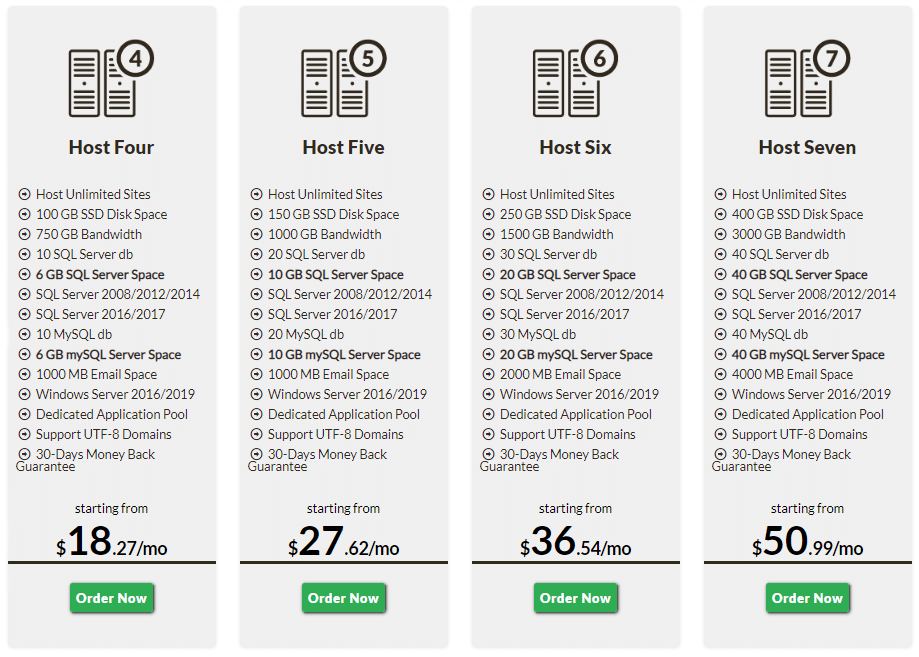 Features
| Feature | WinHost | ASPHostPortal |
| --- | --- | --- |
| Plan in Comparison | Basic | Host One |
| IIS | 10 | 10 |
| MSSQL Version | 2017 | 2017 |
| Hosted Domain | Unlimited | Unlimited |
| Disk Space | 3 GB | 5 GB |
| Bandwidth | 50 GB | 60 GB |
| Email Account | 250 | Unlimited |
| FTP Account | 10 | Unlimited |
| Isolated Application Pool | Yes | Yes |
| Setup Fee | Free | Free |
| Conclusion | Not Recommended | Recommended |
Reliability

Winhost selects a datacenter just in the local to place its Dell servers and run its ASP.NET hosting business. So it is convenient for Winhost staffs to operate normal management and deal emergency situations. Moreover, redundant power supply, high-end air cooling equipment and firewall protection ensure the datacenter to work in reliable and secure manner.
ASPHostPortal provides global, on-demand data center and hosting services from facilities across the Global Continent. ASPHostPortal leverage best-in-class connectivity and technology to innovate industry leading, fully automated solutions that empower enterprises with complete access, control, security, and scalability. ASPHostPortal servers are located in the four prestiguous cities in the world, namely: US, Canada, Brazil, Mexico, United Kingdom, Germany, France, Italy, the Netherlands, India, Hong Kong, Singapore and Australia.
Support
It is much easier to ask for help at ASPHostPortal than WinHost. And the answer response time is faster at ASPHostPortal as well.
People can send a ticket via the Helpdesk Support portal at any time when they have questions, ASPHostPortal's support team that will be answered quickly. In addition, the Knowledgebase is informative enough for people to find out what they want.
However, Winhost just opens its Support portal for people around the clock, but it needs to control panel login credentials of customers. Beyond that, Winhost knowledgebase and forum are good places for the self-help. You could check out HostUCan Winhost customer reviews to know more its service.
Why ASPHostPortal?
After comparing their hosting features, pricing, performance and technical support, it is clear that both companies offer quality ASP.NET hosting services, but ASPHostPortal hosting is better on price value. Customers just need to spend $3.81 for each month and if they have any question, they will easier get technical support. Even better, they can get a 30 day free trial of ASPHostPortal ASP.NET hosting service to test its quality.
For more ASPHostPortal information, please visit asphostportal.com.